Panhard Bar Roto-Joint End, ¾"-16 Right Hand Thread- GM F-Body & Ford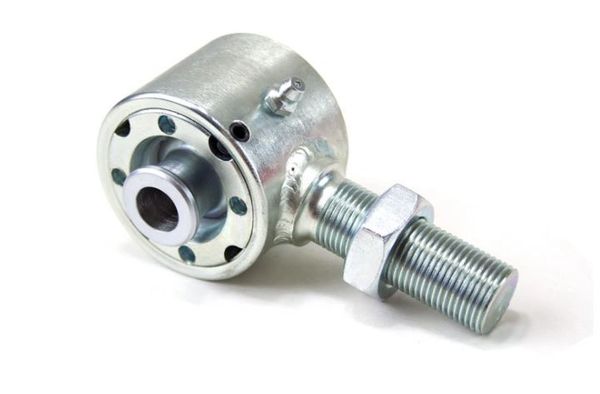 Panhard Bar Roto-Joint End, ¾"-16 Right Hand Thread- GM F-Body & Ford
This fabricated Roto-Joint is designed to replace spherical rod ends on UMI Performance panhard bars for the 1982-2002 Camaro/Firebird and 2005-Present Ford Mustang. This item will also work on many other brand panhard bars for the above listed vehicles that utilize a ¾"-16 right hand threaded rod end. See part # 0017L for left hand threaded Roto Joint. 

This Bushing end is designed to replace ¾"-16 right hand threaded rod ends by simply removing the rod end and screwing in this Roto-Joint assembly. This item works excellent to replace worn out rod ends or rod ends making unbearable noise. The Roto-Joint is an easy replacement and is supplied fully assembled with grease fitting, new jam nut and a clear zinc finish. Bushing width is 1.875" with 3/4"-16 right hand threads, 2.000" of thread adjustment and accepts 14mm bolt. Our replacement bushing end features threads CNC machined from 4140 Chrome Moly steel, DOM tubing and TIG welded for superior strength and thread durability.
Spanner Wrench- This spanner wrench is used for adjusting and disassembling Roto-Joints used in all UMI Performance products. Over time if the delrin race inside the Roto-Joint would wear the spanner wrench is used to tighten the adjusting ring applying more pressure to the delrin inside. The spanner wrench is also used to disassemble the Roto-Joint for cleaning, inspection and rebuilding.
More about Roto-Joint Technology….. UMI's Roto-Joint, short for Rotational Joint, allows 28 degrees of total rotation and unrestricted movement throughout the vehicles suspension. The Roto-Joint is designed to work like a spherical rod end while maintaining streetable qualities of a softer bushing. The Roto-Joint is designed to articulate and prevent suspension bind, and since the installed delrin race does not deflect like softer bushings, there is an improvement in traction and a significant reduction in wheel hop. The construction of the Roto-Joint features a 4140 chrome moly, hard chrome plated spherical ball which rotates in a delrin race. The 4140 chrome moly material and hard chrome plating are designed for extensive wear resistance against hard driving and accumulated miles. The spherical ball rotates in the CNC machined delrin bushing, which is contoured for the spherical ball to allow unrestricted movement as the ball rotates. Delrin is the bushing material of choice due to its high resistance against wear, great tensile strength, and ability to maintain its physical properties. The housing of the Roto-Joint features 4140 chrome moly threads, and a CNC machined bushing holder TIG welded together for the utmost in strength and durability. The UMI Roto-Joint is adjustable and 100% rebuildable. This means as the delrin race wears the adjuster ring can be tightened using the optional spanner wrench to apply tension to the ball. If the delrin race would ever wear completely it can be replaced easily
Reviews