1978-1988 GM G-Body Rear Coilover Kit, Bolt In, 2"-3" Lowering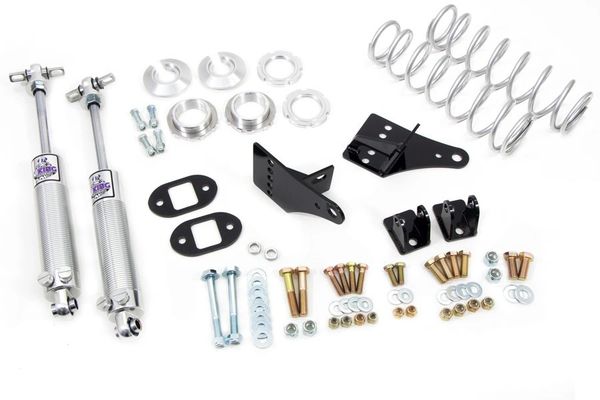 1978-1988 GM G-Body Rear Coilover Kit, Bolt In, 2"-3" Lowering
DESCRIPTION
Bolt-in rear coilover kit allows full ride height, spring rate and damping adjustability for your 1978-1988 GM G-Body. The upper mount reinforcement is a direct bolt-in and holds a true 2-½" racing coilover with T-Bar. The FEA designed lower bracket bolts in using the standard trailing arm mounting hole as well as an additional reinforcement hole normally used by the standard rear shock. The lower bracket features a multi-position design to allow further fine tuning of ride height and shock location (±¾"). The included Viking shock is 19-way adjustable in both compression and rebound and ensures the perfect setting for every application. The 2-½" coilover springs are available in 14" 110lb for drag and street use and 12" 150lb for street and handling use. There is no cutting required and your car can be returned to stock if desired. UMI's rear coil over kit also works if your car previously utilized UMI P/N 3010 weld-on relocation brackets. 100% designed, manufactured and raced out of Philipsburg, PA-USA and always US materials.
Installation & Fitment Note: Coilover brackets are designed to fit factory rear end housings ONLY and may not fit aftermarket rear ends. Coilover kit P/N 3049 offers more clearance and options for aftermarket rear ends than P/N 3048. Rear shocks may not clear all exhaust tail pipes. UMI is not responsible for exhaust clearance issues. .
Key Features:
Designed for 2" – 3" lowering.
Bolt in design mounts to factory rear end housings.
Included Viking Warrior double adjustable shocks offer 19 compression and 19 rebound adjustments.
Available in 110lb or 150lb spring rates.
Adjustable height lowering mounting bracket allows shock travel tuning and additional ride height tuning.
Brackets manufactured entirely from 3/16" Made In USA mild steel.
Powder coated for a long lasting finish.
Sliding slot included for use with control arm relocation brackets.

Designed, tested, manufactured and raced in Philipsburg, PA-USA



Spanner Wrench & Thrust Bearing Kit: Spanner wrench tool is used to adjust vehicle height while shock stays mounted. This wrench is needed to make height adjustments. The thrust bearing kit is designed to be placed between the spring and the spring seat attached to the shock. This makes for easier adjustments since the spring seat is rotating on a bearing. This kit is recommended for easier adjustments but is not needed to complete the installation. We do not recommend adjusting height on the car without a thrust bearing kit.
Reviews