Viking Warrior Gm S-10, G Body Double Adjustable Coil Over Shocks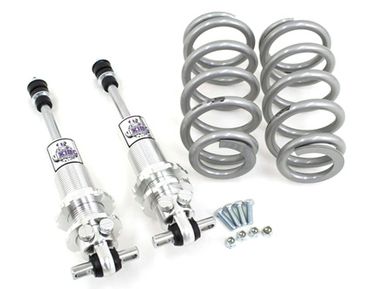 Viking Warrior Gm S-10, G Body Double Adjustable Coil Over Shocks
1973-1988 GM G Body
1982-2004 Chevrolet S10 Truck
Select your Spring Rate
Front Spring Rate Options:
250lb- 11" tall springs for drag race only. Serious lightening required.
350lb- Small block cruise or drag race with lightening required.
450lb- Small block cruise, big block drag race.
550lb- Small block handling, all big blocks except drag.
Viking's front coilover kit combines a high quality hybrid spring with a 19-position double adjustable shock. The upper coil fits the upper spring perch on your vehicle while the lower part of the coil matches the coilover shock bottom. A coil spring compressor is not required, as the adjuster acts as the compressor. The shock itself has independent compression and rebound adjusters to allow custom tuning for street, strip, auto-x and road race - all in one shock. Viking coilovers work perfectly with Tubular lower a-arm or your factory lower a-arm.  head for the nearest high speed corner, 1/4 mile track or weekly cruise.
Value added features include:

Hybrid coil spring Made in USA
Brilliant protective finish ensures your springs stay nice for years
Choose spring rates for drag, street or road race/auto-x
19 way adjustable compression and rebound damping shock suits all occasions (361 possible combinations)
Every shock is built, dyno tested and serialized in Lakeville, Minnesota
Shocks can be rebuilt at Viking or an authorized Viking rebuild center
Kit Includes:

(2) Front coil over shocks, double adjustable
Bearing Mount Not Poly Mount Like Others
We Recommend Bearings As They Perform Better in Supporting the Weight of the Vehicle And Provide For Misalignment when need,Thereby Relieving Unnecessary Stress on the Piston Rod And Seals  

In bearing shocks, Viking uses steel bearings, not the inexpensive nylon race bearings. Feature a 5/8" centerless ground, hard chrome plated piston rod & precision machined pistons with PTFE/bronze piston wrap.

(2) Front springs with choice of 250, 350, 450 or 550 spring rate
Spanner Wrench & Thrust Bearing Kit: Spanner wrench tool is used to adjust vehicle height while shock stays mounted. This wrench is needed to make height adjustments. The thrust bearing kit is designed to be placed between the spring and the spring seat attached to the shock. This makes for easier adjustments since the spring seat is rotating on a bearing. This kit is recommended for easier adjustments but is not needed to complete the installation. We do not recommend adjusting without a thrust bearing kit.
Reviews