Viking Crusaders C5/C6 Coil-over set with bearings and autocross/track valving, 1-3 inch drop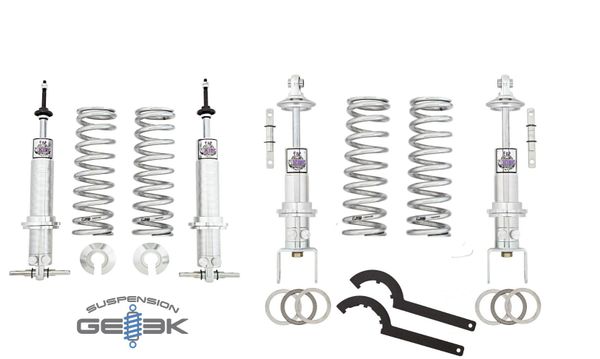 Viking Crusaders C5/C6 Coil-over set with bearings and autocross/track valving, 1-3 inch drop
Viking C5/C6 Coil-over set with bearings and a custom autocross/track valving and a base track spring set up, 1-3 inch drop

500lb front spring and 600lb rear spring..... and a free spanner wrench!
uses our a328GP-500 front and vrv395GP-600 Geek Pro set ups!
All Viking double adjustable shocks feature:

* Lightweight aluminum twin-tube design with a sleek clear anodized finish.
* Adjustment knobs: Labeled with a "C" for compression and an "R" for rebound.

* maximizes stroke for each body length, ensuring you get the most travel out of your shock.

* Aluminum, precision machined piston with a deflective disc with a P.T.F.E. / bronze piston seal.

* Hard chrome plated, center-less ground piston rod (shocks utilize a 5/8" rod; struts utilize a 7/8" rod).

* Three-step sealing system.

* Each shock and strut is dyno tested and serialized. additional time to custom build for your order is approx 1 - 2 weeks

These patent pending shock absorbers and struts feature an interchangeable needle and seat design. The rebound valving adjustment range can be changed without completely disassembling the shock absorber. With the shock or strut in a vice on its side in the fully extended position, the rebound knob can be taken off, and the needle and seat combination can be changed out. This is all done with basic hand tools. There are no expensive "special tools" required to be purchased from Viking. The process is similar to jetting a carburetor. Obviously, it is critical that everything be kept extremely clean, as there are very small orifices that must be kept free of debris.
The end user can choose from a variety of progressive force ranges such as an extreme, high-force progressive valving that is ideal for drag racing, road racing and other applications where high forces are required, or a soft valving for the ultimate comfort ride. Multiple other valving ranges are also available.

Reviews