Viking Crusader Double Adjustable Front & Rear Shock Kit 70-81 Camaro-FBody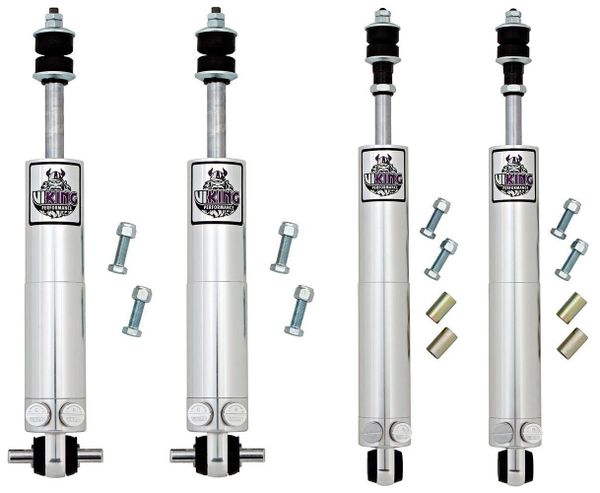 Viking Crusader Double Adjustable Front & Rear Shock Kit 70-81 Camaro-FBody
The Crusader Level shocks are the next step in performance, These shock absorbers and struts have the same digressive compression valving, and various options, as the Warrior™ line. There are 19 positions of evenly spaced compression adjustments - the zero position and 18 distinctive clicks. The rebound valving, however, is a progressive valve that is strictly determined via orifice control. A progressive valve will have a softer low speed force that ramps up very quickly as shaft speed increases. These shocks and struts can generate huge forces at low speeds, depending on the needle and seat combination selected. In fact, this line of shock absorbers and struts produces forces far greater than nearly all others on the market. The rebound side has 22 available positions of adjustment - the zero position and 21 distinctive clicks. As a result, the Crusader™ line provides for 418 different valving combinations. Depending on the needle and seat combination selected, the adjustment range can cover a very large range or a more narrow range with very small defined increments.
Made in the USA!Viking Performance Stock Mount Smooth Body Double Adjustable High-Performance Front and Rear Shock Set
Fits:
1970-1981 Chevrolet Camaro
1970-1981 Pontiac Firebird
Great for comfortable cruising, high-performance handling, drag racing, and everything in between!
19 positions of compression adjustment and 19 positions of rebound adjustment for a total of 361 different valving combinations


Lightweight aluminum shocks with a clear anodized finish


Every shock is dyno tested and comes with its own individual serial number


5/8" centerless ground, hard chrome plated piston rods


Precision machined pistons with PTFE/bronze piston wrap


Two-year material and workmanship warranty
This item will ship directly from Viking Performance in Minnesota, Viking Performance specializes in rod ends and spherical bearings, high performance shock absorbers, high travel coil springs, and related suspension components. Viking was founded in February, 2011, but its owners are anything but new to the industry. Between them, they have over 50 years of hands-on experience in the racing and performance aftermarket.

Viking conducts all research and development, data acquisition, engineering, prototyping, shock assembly, dynomometer testing, pull testing, and select manufacturing in-house in our 25,000 sq. ft. facility. Viking's in-house engineering and product development team allows them to react quickly to changing market conditions, and our team members are all active enthusiasts and/or racers. They understand what you need from a performance company, and provide it with exceptional products, technical support and customer service.
Reviews