UMI Performance 93-02 GM F-Body Corvette C5 to Camaro Brake Conversion Brackets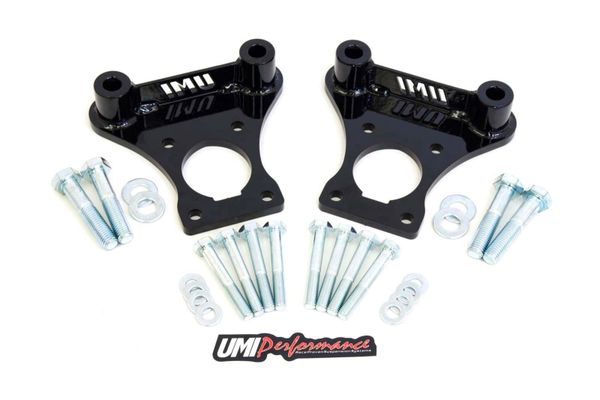 UMI Performance 93-02 GM F-Body Corvette C5 to Camaro Brake Conversion Brackets
Application:
1993 - 2002 Chevrolet Camaro 
1993 - 2002 Pontiac Firebird
The UMI 2120 brake conversion bracket is designed to mount 1997-2013 C5 or C6 front calipers and rotors to the 93-02 GM F-Body spindle. Our brackets are CNC laser cut from 3/8" thick mild steel. The CNC turned stand-offs are fully welded to the laser cut base for strength and a precision fit. The conversion brackets are supplied in a heavy duty black powder coat finish and each kit is includes Grade 10.9 mounting hardware and complete detailed installation instructions. As with all UMI Performance products, these brackets are manufactured in Philipsburg, PA – USA.
Notes:
1.     To install brackets both LT1 and LS1 spindles require modifications. This simple modification can be done while the spindle is on the car and requires a small amount of cutting and grinding. LS1 models require less cutting than LT1 models. Instructions included. 
2.     There are many rotor and brake pad setups available for the C5/C6 Corvette and various driving applications may require a different setup. Please note these are the adaptor brackets only and to complete installation you must purchase rotors, calipers, abutment brackets and pads separately. Each installation sheet is very detailed and will provide a list of items needed to perform and complete the installation.
Benefits of Running the C5/C6 Set Up
1.     Larger Rotors: The larger rotor absorbs and radiates more heat, the C5 rotor is 1" larger than the LS1 rotor and 2" larger than the LT1 rotor. The C6 rotor is ½" larger than C5. 
2.     Corvette rotors are directional unlike the LT1 and LS1 set ups. Corvette rotors feature fins designed to advance air flow allowing better cooling. 
3.     Many brake pad and rotor options are available for all types of driving. 
4.     Unlike other brake set ups, Corvette components can be purchased at any parts store. This eliminates down time when an item may fail or require replacement.
Requirements 
C5 brackets require a minimum of a 17" wheel for clearance while C6 requires 18". All 1996 and newer F-Body 17" wheels will work with the C5 brakes. If you are running a different wheel set up please research fitment before purchasing.
From our research we have found the following wheels will NOT clear with the conversion kit, they may clear with the correct wheel spacers: 
1. Enkei Win- 17" x 9.5" 
2. 93-94 SLP Firehawk wheel- 17" x 9" 
3. Borbet Type T- 17" x 9.5" 
4. Forgeline RS Reverse Rim 
5. Torque Thrust II 
6. Konig Monsoon 17"
Reviews