Umi Performance 1982-2003 S10/S15 Truck Corner Max Kit- Race, Street handling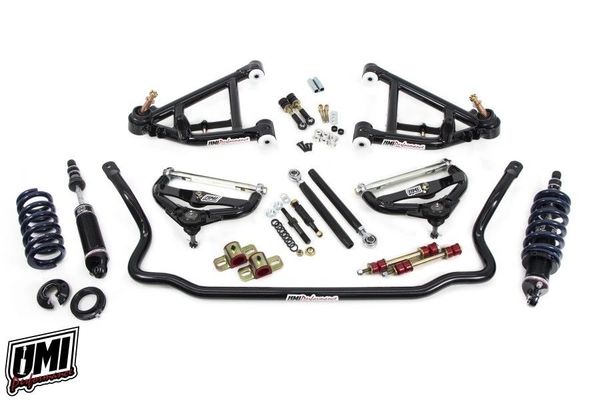 Umi Performance 1982-2003 S10/S15 Truck Corner Max Kit- Race, Street handling
Application:
1982-2003 Chevrolet S-10 (2WD)
1982-2003 GMC S-15 (2WD)
UMI's Corner Max front end kits are a comprehensive system with our best corner carving parts under one easy to find part number. The Corner Max system combines geometry corrected a-arms with tall ball joints, higher rate springs, UMI rebound adjustable monotube shocks, heavy duty sway bar and a bump steer kit. The foundation of the kit includes our coilover-only lower a-arms featuring caster improvement, tall ball joints, and the ability to remove the spring and shock without taking the spindle apart. The upper a-arm features rod ends for smooth operation and the ability to adjust without shims. The 1-¼" sway bar upgrade complete with UMI's fabricated end links reduces body roll and helps speed transitions. Racing coilover springs are paired with UMI's rebound adjustable coilover monotube shocks. Fine tuning is accomplished with a UMI bump steer kit. The Corner Max kit is built to make the stock GM clip work as well as it possibly can with a true bolt-on kit. All UMI Performance parts are fabricated and raced with pride out of Philipsburg, PA – USA. Race proven on the UMI Green Machine.
Features:
Exceptional handling at 1 to 2-1/2" lowering.

Uses factory GM spindle.

Up to 10 degrees static caster without moving the spindle pin.

Up to 1.2 degrees per inch camber gain.

¾" taller lower and standard upper ball joints.

Easily change shocks and springs at the track with UMI's unique quick change system.

850 lb/in race proven spring rates for exceptional handling.

UMI rebound adjustable monotube shock with road race valving, 40 clicks of adjustment.

Shocks have easy access adjustment in engine bay area for quick changes at the track.

1-1/4" solid sway bar with swivel end links to balance kit properly.

Bump steer kit for fine tuning.

Thrust bearings and adjusting wrench included for easy height changes

Raced and tested on UMI's 1979 Monte Carlo test car.

All UMI suspension components are designed and manufactured in the USA.
Reviews