UMI 64-72 GM A-Body Tubular Front Lower A-Arms, Delrin Bushings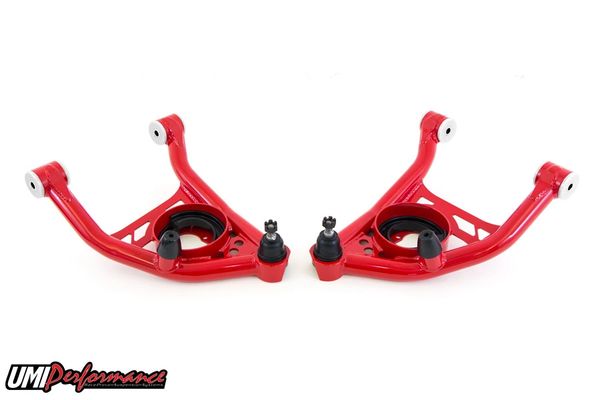 UMI 64-72 GM A-Body Tubular Front Lower A-Arms, Delrin Bushings
Application
1964 - 1972 Chevrolet Chevelle, Monte Carlo, Malibu, El Camino
1964 - 1972 Buick Skylark, Grand Sport, Special
1964 - 1972 Pontiac Lemans, GTO, Tempest
1964 - 1972 Oldsmobile Cutlass, 442, F-85
Tired of looking at hammered, crusty lower a-arms with cracked ball joint bosses? UMI has the solution with brand new modern tubular lower a-arms. UMI lower A-Arms are fabricated from DOM tubing with CNC machined tube ends for a precision fit. They are jig built to maintain accuracy and bolt on correctly every time. All critical areas are TIG welded for superior strength and a clean look. UMI's lower A-Arms also feature improved ball joint angle for lowered vehicles and the design provides additional tire clearance. Our P/N 4032 lower a-arms include greaseable, UMI designed and manufactured Delrin bushings. Delrin bushings offer supremely smooth suspension action and precision operation while still providing some insulation from road noise. They come preloaded with polyurethane bump stops, polyurethane spring isolators and premium ball joints. UMI's extensive testing on the street, drag strip and skid pad ensures a quality product able to with stand all types of abuse. UMI lower A-Arms are designed to work with factory springs, lowering springs and coil over kits without changing the a-arms. For exceptional handling and performance we recommend combining with UMI upper a-arms, part # 4033-1. UMI Performance lower a-arms are shipped fully assembled and ready for installation. Designed and manufactured with pride in Philipsburg, PA - USA.
Hardware kit, Part # 4001-
Lower a-arm hardware kit includes 1/2-13 Grade 8 bolts, washers and nylock nuts. Kit includes everything needed to mount your new UMI Performance a-arms to your vehicle.
Features:
Tubing is precision bent on a programmable tube bender & CNC machined for accuracy
Jig built & TIG welded for superior strength and a clean look
Greaseable, UMI designed & manufactured Delrin bushings for supremely smooth suspension action
Premium ball joints installed
Polyurethane bump stops & spring isolators
Simply bolt-on and go. Fits factory spindle and works with factory springs, lowering springs and coil over kits
Durable red or black powder coat finish
Designed and manufactured with pride in Philipsburg, PA – USA
Reviews