UMI 1993 - 2002 GM F-Body Boxed Style Weld-In Subframe Connectors, Hard Top/T-Top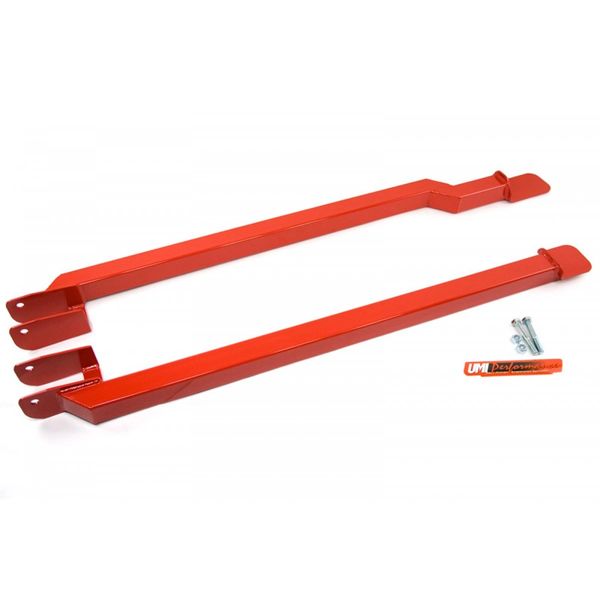 UMI 1993 - 2002 GM F-Body Boxed Style Weld-In Subframe Connectors, Hard Top/T-Top
Hard Top/T-Top GM F-Body Boxed Style Weld-In Subframe Connectors
Minimize chassis flex and increase performance capabilities on your 93-02 GM F-Body with boxed style weld-in subframe connectors from UMI Performance. Subframe connectors are a must chassis upgrade when racing and hard driving habits are present. They greatly improve your car's handling ability while reducing t-top squeaks, dash rattles and quarter panel flexing. Subframe connectors essentially tie the front and rear steel subframes together, resulting in a stiffened and strengthened chassis, allowing better weight transfer and improved traction when launching. When strength is a concern, square tubing has greater torsion resistance over tubular designs. Will work with all aftermarket exhaust systems and does not effect ground clearance. This weld-in style requires no bolts to tighten ever and less chance of flex compared to bolt-in types.

Features:
- Built using 2.000" x 2.000" x 0.120" Mild Steel Square Tubing
- CNC Machined 0.188" Thick Mild Steel Mounting Points
- Uses Control Arm Mounting Point for Increased Strength
- Precision MIG Welded Construction
- Brilliant Durable Powder Coat Finish

Installation:
Weld-in only, installs in approximately 2 hours, all necessary hardware and detailed installation instructions included.


Application:
1993 - 2002 Chevrolet Camaro (All Models)
1993 - 2002 Pontiac Firebird (All Models)
(Will NOT fit convertibles)

Reviews