UMI 1982 - 1992 GM F-Body Front Lower A-arms, Delrin Bushings, Coilover Specific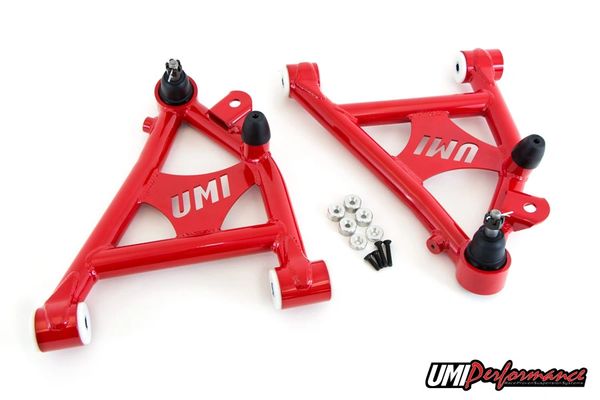 UMI 1982 - 1992 GM F-Body Front Lower A-arms, Delrin Bushings, Coilover Specific
UMI coilover specific lower A-arms are shipped fully assembled and ready for direct bolt in installation. Spring bucket delete saves weight. They feature greaseable Delrin bushings for smooth bind free travel, premium ball joints, bump stops and adjustable steering stops. UMI's lower A-arms are fabricated from drawn over mandrel tubing with CNC machined tube ends for a precision and accurate fit. They are assembled on a jig to maintain accuracy for a perfect fit every time. Critical areas are TIG welded for superior strength and a clean look. Lower A-arms also feature additional tire clearance for wider tires and adjustable steering stops to set vehicle steering radius. UMI's extensive testing on the street, drag strip and skid pad ensures a quality product able to with stand all types of conditions. The ultra tough red or black powder coat finish guarantees your performance parts stay beautiful on your street car, drag car or pro touring machine. Lower A-arms are designed to work with coilovers only. Manufactured with pride in Philipsburg, PA – USA.
UMI Exclusive - Adjustable steering stops: The adjustable steering stops allow the front turning radius to be adjusted, preventing wider aftermarket wheels and tires from rubbing. The adjustable steering stop shims are machined from aluminum to prevent adding weight and each kit is supplied with a variety of adjustment options.
Hardware kit, Part # 3011- Lower A-Arm hardware kit includes Grade 10.9 12mm bolts, washers and ny-lock nuts. Kit includes everything needed to mount your new UMI A-Arms to your vehicle.
Features:
Spring bucket deleted and replaced with laser cut reinforcement plate.

Saves weight. 7 lbs lighter than the factory A-arm set.

Greaseable Delrin Bushings for smooth suspension articulation.

CNC machined tubing for precision fitment.

USA drawn over mandrel tubing precision bent on a programmable tube bender.

Jig built for accuracy and a perfect fit.

Adjustable steering stops.

Designed & manufactured in Pennsylvania USA.
Reviews