UMI 1998 - 2004 Ford Mustang Upper & Lower Rear Control Arms Kit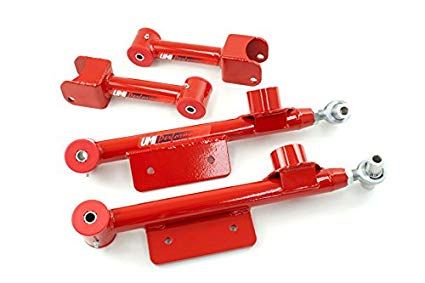 UMI 1998 - 2004 Ford Mustang Upper & Lower Rear Control Arms Kit
his complete kit includes (1) set of UMI Performance adjustable lower control arms and (1) set of fixed length upper control arms. These direct bolt-on replacements are designed to minimize wheel hop, improve cornering while lowering ET's and help track consistency. Lower Control arms are constructed DOM mild steel tubing 1.500" OD x 0.120" wall, 4130 chrome moly threaded tube adaptor, completely CNC machined and fully TIG welded for outstanding strength. The spherical rod end allows for a "bind free" operation, making a great upgrade for both your track and auto cross driven vehicle while the polyurethane bushings are designed to be bolted to the chassis for a quiet comfortable operation. The upper control arms feature 0.250" mild steel mounting points, 1.625" x 0.120" DOM steel tubing and polyurethane bushings. Both upper and lower control arms feature Energy Suspension® polyurethane bushings, zinc plated steel sleeves and "on-car" grease able zerk grease fittings. Adjustments can be made using the high quality QA1® Teflon lined spherical rod end that operates for a quiet bind free performance. Our lower control arms feature reinforced spring perches and heavy duty sway bar mounting points. 
Features:
- 0.120" Wall Thickness DOM Mild Steel Tubing
- 4130 Chrome-Moly Threaded Tube Adapter
- QA1 ¾" Hard Chrome Plated, Teflon/Kevlar Self Lubricating Race Rod 
   End
- Complete Kit Features Precision CNC Machining and Fully Welded
- CNC Machined 6061 Aluminum Step Bushings with Zinc Plated Steel 
  Sleeves
- Energy Suspension Fluted Polyurethane grease able Bushings
- Durable Long Lasting Powder Coat Finish
- Uses OEM Hardware 
Installation:
Easy bolt-on installation in about 1 hour--no drilling required. Uses OEM hardware. 
Application:
1979 - 1998 Ford Mustang
Reviews