UMI 1964-1972 A-Body Double Adjustable Lower Control Arms- w/ Roto-Joints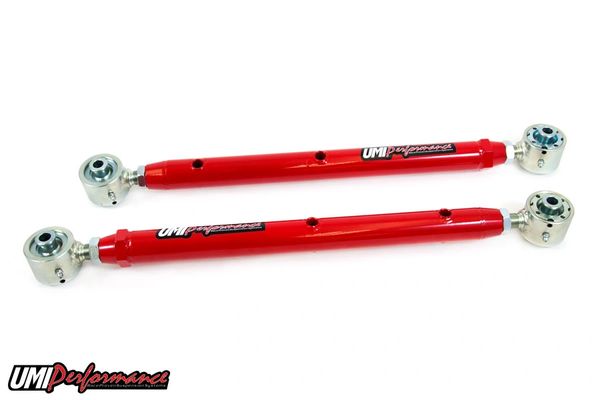 UMI 1964-1972 A-Body Double Adjustable Lower Control Arms- w/ Roto-Joints
Application:
1964 - 1972 Chevrolet Chevelle, Monte Carlo, Malibu, El Camino
1964 - 1972 Buick Skylark, Grand Sport, Special
1964 - 1972 Pontiac Lemans, GTO
1964 - 1972 Oldsmobile Cutlass, 442, F-85
UMI's double adjustable lower control arms utilize our Roto-Joint technology for a bind free performance, quiet ride quality, and also offer on car adjustment. The control arms can be adjusted longer or shorter moving the rear end back or forward to squeeze those larger tires in the fender wells. Adjustable control arms are also recommended for most aftermarket rear end installs to center the rear end and prevent tire rubbing. The control arms are fabricated from 1-1/2" drawn over mandrel tubing with TIG welded chrome moly threaded tube adapters for the utmost in strength and performance. The threaded ends feature left and right hand threads for easy on car adjustments, simply loosen the jam nuts and turn the wrench to make adjustments. Both control arms feature the correct provisions for adding a stock or aftermarket sway bar. Sway bar holes are reinforced with a 0.120" wall thickness steel sleeve that TIG welded and sanded into place. This control arm set features Roto-Joints on both sides of the control arms. This is designed for maximum performance and suspension travel. The installed Roto-Joint is a pivot ball lined with a greaseable delrin race designed to offer 28 degrees of total unrestricted movement, more than adequate for a bind free, low friction operation. The Roto-Joint design improves performance over the factory rubber and aftermarket polyurethane bushings by allowing the suspension to articulate correctly, and provide precision handling. The installed UMI Roto-Joint allows rear end free movement when high handling, auto cross or road race is a concern while still being a 100% streetable setup. The installed delrin race, which lines the spherical ball, absorbs shock and road noise for a quiet and smooth operation but also works excellent as a solid bushing drag race control arm. All Roto-Joints are greaseable and low maintenance making an excellent street setup for your cruiser or race car!
Features:
Constructed of 1.500" DOM mild steel tubing
Spherical Roto-Joints installed for easy adjustments and bind free performance
Delrin race offers low deflection for improved traction
CNC machined 4140 chrome moly threaded tube adapters
On car adjustment using CNC machined left and right hand threads
Fully TIG welded for superior strength
Shipped fully assembled and ready to install
Uses OEM hardware
Brilliant and durable powder coat finish
More about Roto-Joint Technology….. UMI's Roto-Joint, short for Rotational Joint, allows 28 degrees of total rotation and unrestricted movement throughout the vehicles suspension. The Roto-Joint is designed to work like a spherical rod end while maintaining streetable qualities of a softer bushing. The Roto-Joint is designed to articulate and prevent suspension bind, and since the installed delrin race does not deflect like softer bushings, there is an improvement in traction and a significant reduction in wheel hop. The construction of the Roto-Joint features a 4140 chrome moly, hard chrome plated spherical ball which rotates in a delrin race. The 4140 chrome moly material and hard chrome plating are designed for extensive wear resistance against hard driving and accumulated miles. The spherical ball rotates in the CNC machined delrin bushing, which is contoured for the spherical ball to allow unrestricted movement as the ball rotates. Delrin is the bushing material of choice due to its high resistance against wear, great tensile strength, and ability to maintain its physical properties. The housing of the Roto-Joint features 4140 chrome moly threads, and a CNC machined bushing holder TIG welded together for the utmost in strength and durability. The UMI Roto-Joint is adjustable and 100% rebuildable. This means as the delrin race wears the adjuster ring can be tightened using the optional spanner wrench to apply tension to the ball. If the delrin race would ever wear completely it can be replaced easily.
Spanner Wrench- This spanner wrench is used for adjusting and disassembling Roto-Joints used in all UMI Performance products. Over time if the delrin race inside the Roto-Joint would wear the spanner wrench is used to tighten the adjusting ring applying more pressure to the delrin inside. The spanner wrench is also used to disassemble the Roto-Joint for cleaning, inspection and rebuilding.
Reviews