Ridetech Tru Turn Package - 1964-1966 Ford Mustang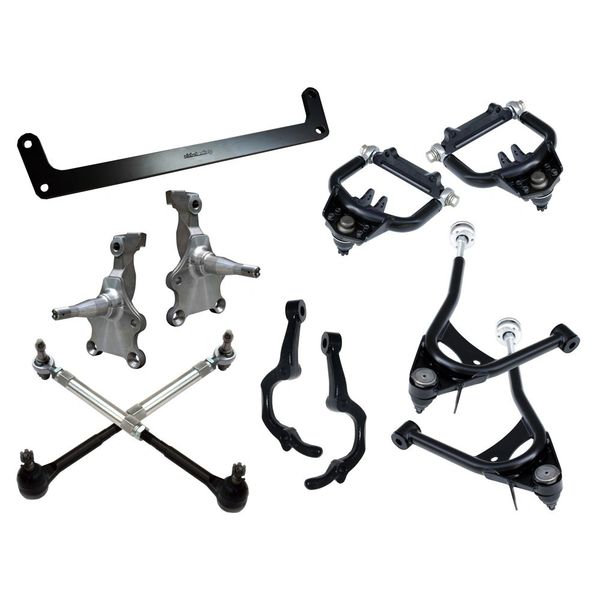 Ridetech Tru Turn Package - 1964-1966 Ford Mustang
The Mustang's factory front suspension is plagued with bad bumpsteer, little room for wide wheels and outward tire lean around turns. With the Tru Turn system installed the tires will now lean into the turn, bumpsteer is 0.000" through 5" of suspension travel and you now have clearance to run up to a 245mm tire. 17x8 and 18x8 wheels with a 5-1/2" backspace fit perfectly with this aftermarket suspension.

Kit Includes:
- Spindles
- Steering Arms
- Drag link bracket
- Tie Rod Assemblies
- StrongArms
Please Note: This Ridetech Tru Turn Front Suspension Package requires the use of RideTech Coil Overs (65FRQ) or (65FHQ).

Spindles are taller overall to improve the camber gain. Steering arms are designed to eliminate bumpsteer, improve ackerman angle and allow clearance for up to an eight inch wide wheel with a 5-1/2" backspacing. A drag link bracket bolts onto your OEM drag link to relocate the inner tie rod end to minimize bumpsteer. Tie rod assemblies integrate with your new steering arms and center link to provide a true bolt-on steering system. Both upper and lower StrongArms (control arms) incorporate adjustable spherical bearings for stability and dropped cross shaft to improve camber gain.

Frequently Asked Questions:
- Do I have to modify my OEM subframe? No modifications are necessary at all.

- Can I use my existing OEM or other aftermarket dropped spindles with this system? No. The Ridetech spindle is a critical part of the whole system. Using a different spindle will create highly unfavorable suspension geometry and would be incompatible with our steering arms.

- What is "bumpsteer" and why should I be concerned about it? Bumpsteer is a term that refers to the control arms and the steering linkage moving in different arcs as the suspension moves through its travel. When this happens the tie rods will move the steering arms [and therefore the wheels] in directions that the driver does not intend. This leads to an "uneasy" feeling car. Some OEM cars [especially older muscle cars] can have a lot of bumpsteer, as much as one inch! Imagine the toe setting on your car changing unpredictably as you go down the road! The Tru Turn system nearly eliminates this situation. The bumpsteer is 0" over the entire 5" of suspension travel. This leads to a very stable and comfortable feeling vehicle.

- What is camber gain and why should I be concerned about it? Camber gain refers to the rate of camber change the spindle will see through the range of suspension travel. With most OEM cars [especially older muscle cars], the OEM suspension geometry will lean the compressed wheel OUT when turning. [Take a look at an early Mustang taking a hard turn] With the Tru Turn suspension the compressed wheel will lean INTO the turn, keeping the tire squarely on the ground thereby offering more lateral grip and offering a more stable turning experience.

- Is the Tru Turn system compatible with my OEM control arms, or other brands of control arms? No, the Tru Turn is specifically engineered to work only with Ridetech StrongArms.

The Tru Turn system includes many parts designed by Ridetech which all work together to bring you one amazing handling package. The Tru Turn package is the recipient of the 2012 Hot Rod and Restoration Trade Show Innovation Award.

If you want your classic muscle car to ride and drive like a modern performance car, the Tru Turn front suspension system is the perfect solution. Ridetech thoroughly tests all of their components before releasing them to the public. The cars are regularly used in a wide range of performance driving environments along with normal highway time. With multiple suspension parts and setups available, Ridetech has something to offer for the weekend cruiser to road race warrior, and everything in between.

*Ridetech tall spindles are only compatible with GM A/F body brake systems.
Reviews