Ridetech Delrin Spring Washer (Single Ring)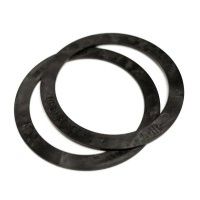 Ridetech Delrin Spring Washer (Single Ring)
Delrin Spring Washers now come standard on any new Ridetech coilover purchase.  They are placed between the spring and coil retainer.  They significantly reduce the force required to adjust the lower spring mount when changing preload or ride height. 
Sold individually
2 for one coilover (above and below the spring)
4 for a pair
8 for a complete set.
Reviews