Ridetech Complete TQ Series CoilOver System for 2010 - 2015 Chevy Camaro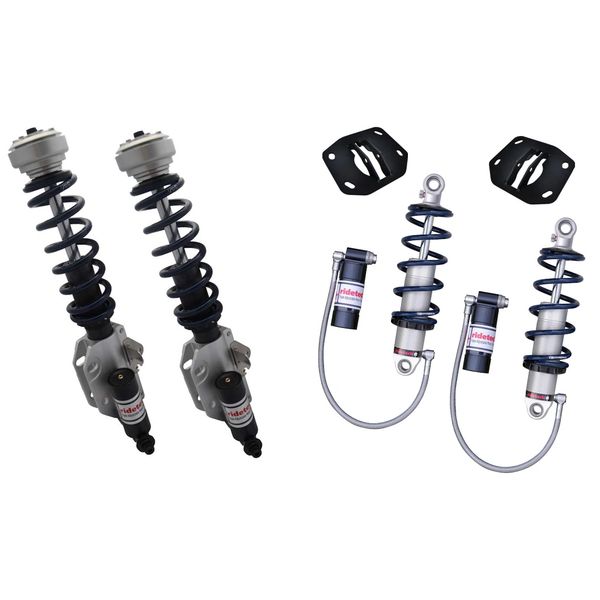 Ridetech Complete TQ Series CoilOver System for 2010 - 2015 Chevy Camaro
The RideTech coil-over package includes everything you need to upgrade your existing suspension. The package contains 4 triple adjustable coil-overs, one for each corner of your vehicle. The benefit of buying a complete suspension system is that it takes out all of the guesswork when purchasing a new suspension. RideTech has spent numerous hours collecting data to find a perfect spring rate and components for your vehicle's performance and ride quality.
Features:
System Features
PERFORMANCE MONO-TUBE STRUT
Not just a replacement strut ... The new RideTech performance struts are designed with handling performance and ride quality in mind.
Front Strut Features:
Steel Mono-Tube strut design
Oversized rod guides for maximum strength and durability
Extruded aluminum clamp mount with integrated stainless brake line, abs for bolt on installation
Nitro carburized finish for a lasting durability
Billet upper mounting bracket with built in camber/caster adjustment
Integrated thrust bearing
Includes Hyperco Springs (made with high tensile steel)
Delrin spring washers for easy spring retainer adjustment
Available in (single adjustable HQ) (triple adjustable TQ coming soon)
Rear Coil-Over Features:


Anodized finish protects against corrosion


Available as fixed valve or rebound single adjustable


CNC machined billet hardware


Unique pinch clamp height adjuster uses finer thread for easy adjustment


Includes 1/2" bore x 1" kevlar lined bearings for noise free operation


RideTech 2 1/2" coil over springs
built in Indiana by HyperCo:
High tensile premium steel CNC cold wound, less weight, more resistant to bowing, increased travel with durable powered coated finish
Monotube gas pressure design offers superior fade free performance


Impact forged aluminum body provides superior strength and reliable service


Larger 1.834" piston provides outstanding ride quality


Double sealed rod guide with dust cover eliminates oil leakage


5/8" chrome shock shaft


RideTech Aluminum MonoTube Shocks
Great Performance
Mono-tube construction sets this coil-over shock apart - it means consistent performance and great ride quality
Triple Quality Shock Series Features
This newest addition to the Ridetech shock line goes beyond the typical double adjustable units that have been popular; the TQ shock has a single rebound adjustment and a DUAL stage [high speed and low speed] compression adjustment.
It uses a remote reservoir that is connected with a 30" braided line for easy installation in a variety of installation applications. The high-speed adjustment allows tuning for impact harshness... potholes, speedbumps, offroad use and other harsh road irregularities that might induce a high-speed excursion of the piston rod. The low-speed adjustment allows tuning of ride quality, as well as the general cornering characteristics of typical road course and racetrack use. It is currently the ultimate choice for autocrossing, track days, drag racing, and other extreme environment use.
Features:
Single rebound adjustment PLUS dual stage high & low speed compression
Aluminum impact forged shock construction for leak free operation
Monotube design allows large piston for superior oil control, ride quality, and handling
Available in a wide range of stroke lengths, and mounting styles to fit large variety of applications
Remote reservoir includes mounting brackets for easy installation
Reviews