Ridetech CoilOver System for 1978-1988 GM "G" Body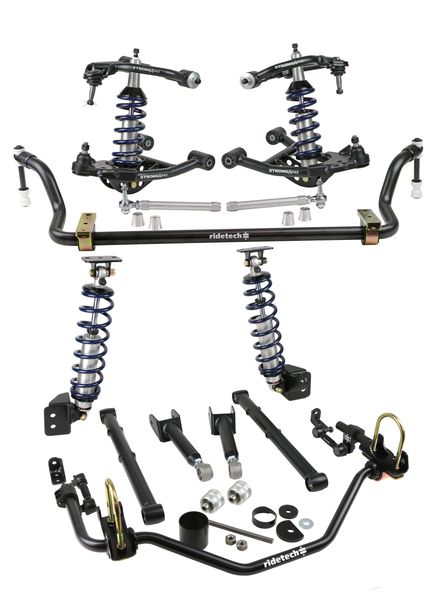 Ridetech CoilOver System for 1978-1988 GM "G" Body
DESCRIPTION
This CoilOver System is specifically designed for the 1978-1988 GM "G" Body Platform and includes everything needed to create modern driveability from vintage muscle. The package contains front upper and lower control arms, front MuscleBar, rear StrongArms and 4 HQ Series CoilOvers. The benefit of buying a complete suspension system is that it takes all of the guesswork out when purchasing a new suspension. RideTech has spent hours collecting data to find a perfect spring rate and components for your vehicle's performance and ride quality.  1978-1988 GM "G" Body includes Monte Carlo, Cutlass, El Camino, Grand National, Grand Prix, Malibu and Regal.  

Features:

 The

 

Upper StrongArms

 

feature tall ball joints to provide increased camber gain and the ball joint location has been moved back to allow for additional caster setting to improve high speed stability and steering feel. Offset slugs are also available for additional caster. Injection molded Delrin bushings with 13% Teflon are used to reduce deflection and stiction.

 

The

 

Lower StrongArms

 

feature a double sheer lower mount for increased strength. We have also dropped the lower shock mount to increase suspension travel and moved the lower ball joint forward to increase caster settings while keeping the wheel centered in the wheel opening. Injection molded Delrin bushings with 13% Teflon are used to reduce deflection and stiction.    

HQ Series CoilOvers

 

utilize an impact forged aluminum body and Monotube design to deliver excellent ride quality and handling.     They allow fine tuning of the ride quality and handling the rebound knob is located at the top of the shock for under hood access. They come standard with a 1,000,0001 Mile Warranty.  Brackets are included witht the rear coilovers for easy attachment to the frame and to the 10/12 bolt rearend.  Interested in AutoCross or Road Course Racing?  Consider the

 

TQ Series CoilOvers

. 

 

This

 

Front MucleBar

 

helps reduce body roll and creates room for wider front tires. It includes the PosiLink endlinks that provide immediate engagement between the chassis and control arms.  An adjustable rate

 

Rear MuscleBar

 

is also included.  

The Rear StrongArms provide added strength to help get the power to the pavement and utilize R-Joint Technology to combine the best qualities of low friction movement, lateral stability, full range articulation, and quiet operation into one special bearing that is as home on the street as it is on the racetrack.
Reviews