Ridetech Complete Coil-Over Suspension System | 1967-1970 Mustang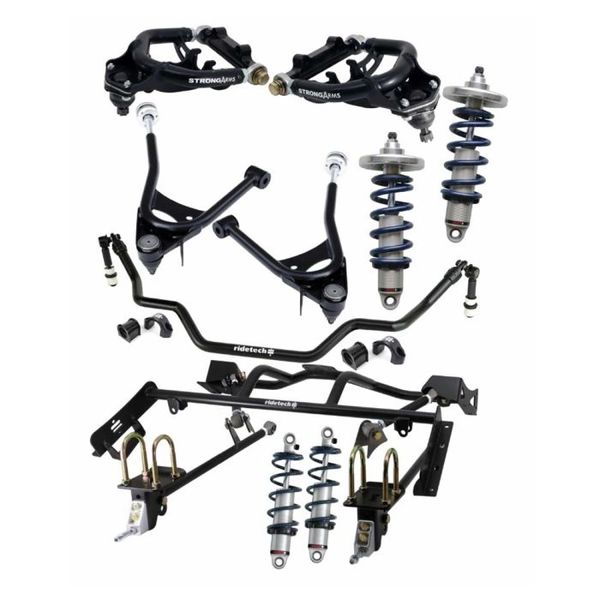 Ridetech Complete Coil-Over Suspension System | 1967-1970 Mustang
Ridetech 
Complete Coil-Over Suspension System | 1967-1970 Mustang
The Ridetech Coil-Over System for the 1967-1970 Mustang includes everything you need to give your vintage Mustang modern drivability.  The package contains front upper and lower control arms, front MuscleBar, a Bolt-In 4 Link System and 4 HQ Series Coil-Overs for every corner of your vehicle. The benefit of buying a complete suspension system is that it takes all of the guesswork out when purchasing a new suspension. Ridetech has spent hours collecting data to find a perfect spring rate and components for your vehicle's performance and ride quality.
Features:
Upper StrongArms

 feature corrected ball joint angles for the tall spindles. The upper ball joint have been moved back to allow for additional caster setting to improve high speed stability and steering feel.  Billet cross shafts are included that feature a lowered mounting point to increase camber gain and correct suspension geometry.   They house a stout double sheer lower shock mount.
Lower StrongArms

 feature a unique design that combines the control arm and strut rod into a stronger, more appealing 1 piece design.  Additional caster is designed into the arms and includes a robust bearing in an aluminum housing at the front mount to replace the soft factory rubber units.     
HQ Series Coil-Overs

 utilize an impact forged aluminum body and Monotube design to deliver excellent ride quality and handling. They allow fine tuning of the ride quality and handling the rebound knob is located at the top of the shock for under hood access. They come standard with a 1,000,0001 Mile Warranty.  
Front MucleBar Sway Bar

 helps reduce body roll and includes performance end links that provide immediate engagement between the chassis and control arms.
Bolt On 4-Link

 greatly improves traction, handling and ride quality. Installation does not require the any major modifications to the floor pan and requires only minimal welding to the axle tube. Works with mini-tubs. 

All links are double adjustable with R-Joint rod ends

, which 

combines the best qualities of low friction movement, lateral stability, full range articulation, and quiet operation into one special bearing that is as home on the street as it is on the racetrack
Reviews