Ridetech 2015-2018 Mustang HQ Series Coilover System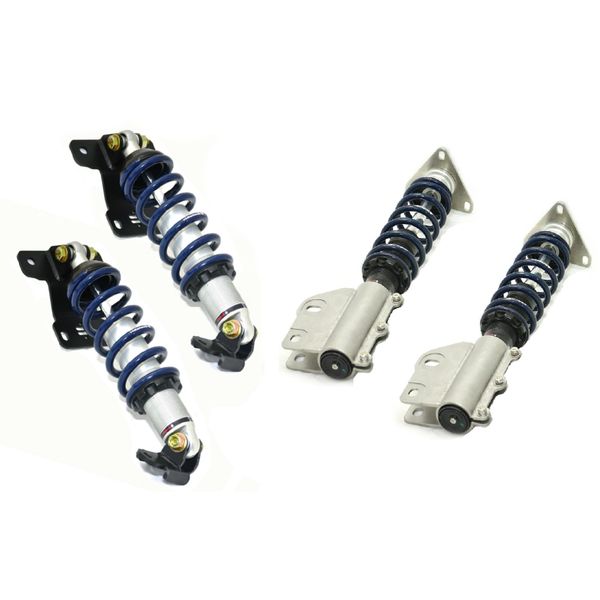 Ridetech 2015-2018 Mustang HQ Series Coilover System
DESCRIPTION
Taking an old-school muscle car and enhancing its performance is one thing, but taking late-model muscle car to the next level of performance is another. Our system for the 2015 Mustang does just that by letting you tune your suspension with the turn of a knob. And don't forget the great looking lowered stance.
RideTech CoilOvers
The System Includes: Performance Engineered Mounting Brackets, 4 Coil-Over Shocks + 4 Springs, with proper spring rate


RideTech continues to offer today's hot rodders the ultimate in ride quality, handling performance, technical support, and now, SIMPLICITY, with the new RideTech Coil-Overs.
Anodized finish protects against corrosion


Available as fixed valve or rebound single adjustable


CNC machinedbillet hardware


Unique pinch clamp height adjuster uses finer thread for easy adjustment


Includes 1/2" bore x 1" kevlar lined bearings for noise free operation


RideTech 2 1/2" coil over springs
built in Indiana by HyperCo:
High tensile premium steel CNC cold wound, less weight, more resistant to bowing, increased travel with durable powered coated finish
Monotube gas pressure design offers superior fade free performance

 




Impact forged aluminum body provides superior strength and reliable service


Larger 1.834" piston provides outstanding ride quality


Double sealed rod guide with dust cover eliminates oil leakage


5/8" chrome shock shaft


RideTech Aluminum MonoTube Shocks
Great Performance
Mono-tube construction sets this coil-over shock apart - it means consistent performance and great ride quality
Reviews