Ridetech 1973-1987 C10 StreetGRIP Suspension System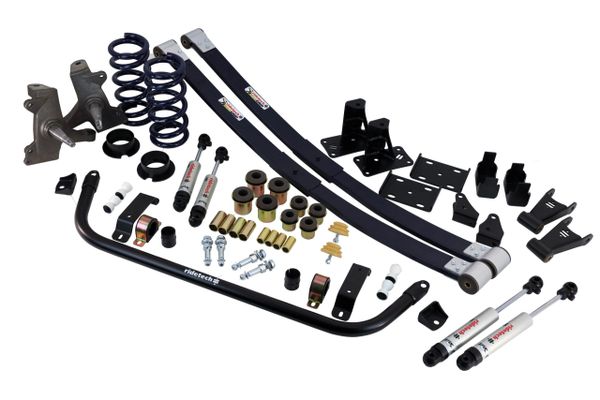 Ridetech 1973-1987 C10 StreetGRIP Suspension System
Description
Lower your 1973-1987 GM pickup while dramatically improving its handling and ride quality. Nicknamed the "squarebody," these pickups really benefit from our StreetGRIP suspension system. The complete kit includes special composite leaf springs that shed a considerable amount of unsprung weight. The trick leaf springs also create a great stance in conjunction with dual rate coilsprings and dropped spindles. Self-lubricating delrin bushings reduce deflection without making noise. The icing on the cake is a set of RideTech HQ Series adjustable monotube shock absorbers. Our shocks are vastly superior to the cheap twin-tube shocks sold in other kits with respect to handling, ride, and durability. When choosing a suspension kit, it's important to keep in mind that shocks are one of the most important parts of the equation. RideTech shocks are so good, they carry a million and one mile warranty. StreetGRIP and Squarebodies go great together. The proof is in the drive. 
COMPOSITE LEAF SPRINGS eliminate spring sag and optimize ride quality & handling while reducing unsprung weight by as much as 70 lbs.
CUSTOM SHACKLES AND HANGERS W/DELRIN BUSHINGS eliminate unwanted movement and stiction, improve handling, and are self-lubricating.
FRONT DUAL RATE COILSPRINGS have a spring rate optimized to enhance ride quality while not sacrificing performance.
DELRIN BUSHINGS for the leaf springs and control arms eliminate unwanted movement and stiction, improve handling, and are self-lubricating.
1-1/4" SWAYBAR reduces roll over stock bar and poly bushings with delrin liner eliminate stiction & improve ride quality.
ADJUSTABLE MONOTUBE SHOCKS are tuned per application and offer a 1,000,001-Mile Warranty.
DROP SPINDLES provide a 2.5" drop and include caliper brackets.




Reviews