Ridetech 1967-1970 Mustang StreetGRIP Suspension System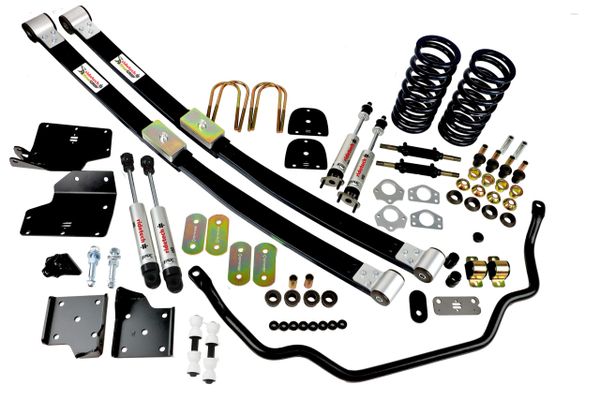 Ridetech 1967-1970 Mustang StreetGRIP Suspension System
Description
This 1967-1970 Mustang StreetGRIP suspension kit updates your car with modern handling, exceptional ride quality and lowered ride height. StreetGRIP suspension is the perfect solution for restorations as well restomods and pro-touring cars. StreetGRIP is a complete easy-to-install solution. A direct replacement for original style suspension, StreetGRIP includes everything that you need, including lowering springs, adjustable shock absorbers, high performance bushings, a heavy duty swaybar, tall ball joints, hardware and instructions.
StreetGRIP System Includes
Front Dual Rate Coilsprings, Front Swaybar, Delrin Control Arm Bushings, Ball joint wedge plate. HQ Series Adjustable monotube shocks, Composite leaf springs, Delrin leaf spring bushings, shackles, hardware and instructions.
Dramatically improves ride quality and handling.
Vehicle-specific RideTech HQ series rebound adjustable shocks offer the ultimate in ride quality and handling performance.
Vehicle-specific dual-rate coilsprings offer the best of both worlds...ride quality AND crisp handling.
Composite rear leaf springs offer linear spring rate. They save 70lbs of unsprung weight.
Delrin control arm and leaf spring bushings eliminate unwanted movement and stiction.
Tall ball joints dramatically improve OEM camber curve to give your car a much more stable feel through the corners.
Larger front swaybar minimizes unwanted body roll through the corners.
Reviews