RideTech 1967-1969 Camaro StreetGrip System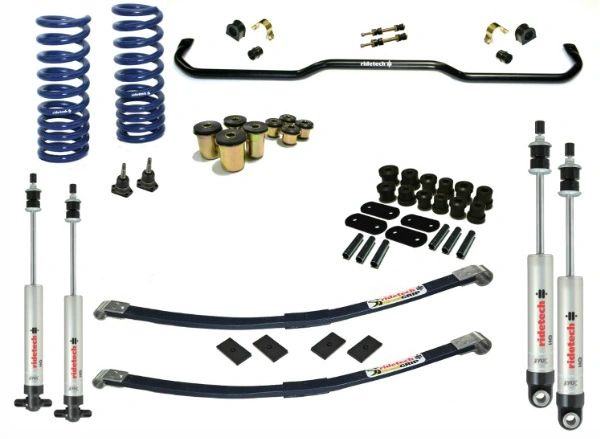 RideTech 1967-1969 Camaro StreetGrip System
When I worked at ridetech we heard from many owners they just wanted a full bolt on setup that really worked and fixed a lot of the factory short comings, and we came up with the concept "2G for 2G", we drove the cars everywhere to get the feel right and add components to make it better ... since i started my own shop now its a great seller, and we can custom the kit, if you already have control arms we can build the kit without the control arm bushings and that drops the price 175 bucks... if you already have a good performance sway bar, we can build the kit without that also and save money there

This 1967-1969 Camaro and Firebird StreetGRIP suspension kit provides modern handling and ride quality while lowering your vehicle for great stance. StreetGRIP is perfect for restorations and mild customs such as restomods and pro-touring cars. The complete, easy-to-install kit is a direct replacement for factory suspension and includes everything that you need including lowering springs, adjustable shock absorbers, high performance bushings, a heavy duty swaybar, tall ball joints, hardware and instructions. Shocks carry a million and one mile warranty. With the StreetGRIP system, your highway driving experience will become more smooth, settled and controlled. When the road gets curvy, StreetGRIP will put a giant grin on your face.
Composite rear leaf springs offer linear spring rate and save 70lbs of unsprung weight!
Vehicle-specific dual-rate front coilsprings offer the best of both worlds ... ride quality and sure-footed handling.
Self-lubricating Delrin control arm bushings eliminate unwanted movement and stiction in front suspension.
Tall ball joints dramatically improve OEM camber curve to give your car a much more stable feel through the corners.
Lower Ball Joints
Larger front swaybar minimizes unwanted body roll through the corners.
Delrin swaybar bushings eliminate unwanted movement and stiction. No squeaking, no binding, no slop.
Vehicle-specific RideTech HQ series shocks have adjustable rebound to help you fine tune ride and handling to suit your driving preferences.
StreetGRIP System Includes Composite leaf springs, dual rate coilsprings, adjustable HQ Series monotube shock absorbers, heavy duty front swaybar, Delrin control arm bushings, tall upper ball joints, lower ball joints, delrin leaf spring bushings, shackles hardware and instructions.
Reviews