Ridetech 11170203 - 70-81 GM F-Body HQ Coil-Over System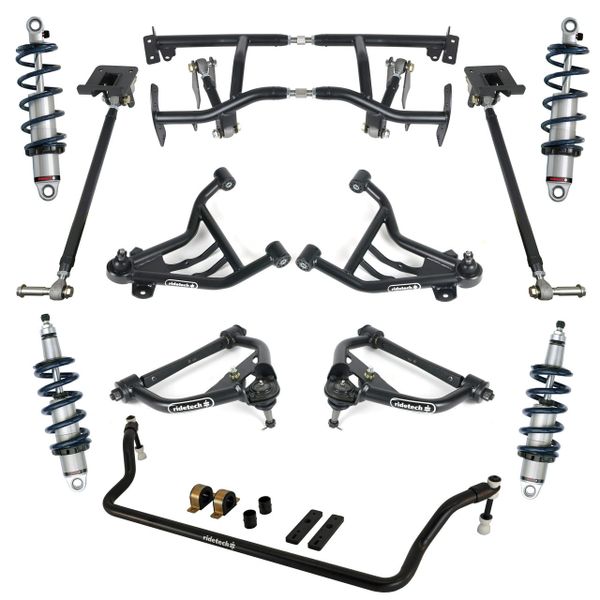 Ridetech 11170203 - 70-81 GM F-Body HQ Coil-Over System
Ridetech 11170203 - 70-81 GM F-Body HQ Coil-Over System
Complete Coil-Over Suspension System | 1970-1981 Camaro / Firebird
The Ridetech 1970-1981 Camaro / Firebird Coil-Over package includes everything you need to completely upgrade your existing suspension and give your Camaro the aggressive lowered stance with modern drivability. The package contains front upper and lower control arms, front sway bar, a rear 4-Link, and 4 HQ Series Coil-Overs for every corner of your vehicle. The benefit of buying a complete suspension system is that it takes all of the guesswork out when purchasing a new suspension. Ridetech has spent hours collecting data to find a perfect spring rate and components for your vehicle's performance and ride quality.
Features:
Upper StrongArms

 feature corrected ball joint angles for the tall spindles. The upper ball joints have been moved back to allow for additional caster setting to improve high-speed stability and steering feel. Injection-molded Delrin bushings with 13% Teflon reduce deflection and stiction.    
Lower StrongArms

 feature a double sheer lower mount for increased strength. We have also dropped the lower shock mount to increase suspension travel and moved the lower ball joint forward to increase caster settings while keeping the wheel centered in the wheel opening. Injection-molded Delrin bushings with 13% Teflon are used to reduce deflection and stiction.    
HQ Series Coil-Overs

 utilize an impact forged aluminum body and Monotube design to deliver excellent ride quality and handling. They allow fine tuning of the ride quality and handling via the rebound adjustment knob, located at the top of the shock for under hood access. They come standard with a 1,000,0001 Mile Warranty.  
Front Sway Bar

 reduces body roll and creates room for wider front tires. Includes billet aluminum frame straps (anodized black) and low friction bushings.  Rate = 430lbs  Diameter= 1.375″  Wall Thickness = .250″  
Bolt-On 4 Link

 greatly improves traction, handling and ride quality. Installation does not require the any major modifications to the floor pan and requires only minimal welding to the axle tube. Works with mini-tubs.  The R-Joint rod ends combine the best qualities of low friction movement, lateral stability, full range articulation, and quiet operation into one special bearing that is as home on the street as it is on the racetrack!

Eliminates spring wrap / wheel hop
Double adjustable upper and lower bars are standard and include R-Joint rod ends
Adjustable anti-squat to maximize performance on straight line or through the corners (50% to 100%)
Optimized roll center height for confident cornering
New adjustable cradle design allows for variable manufacturing tolerances.
Lower bar mount bolts to factory leaf spring perch
Reviews