Complete Coil-Over Suspension System | 1982-2003 S10 2WD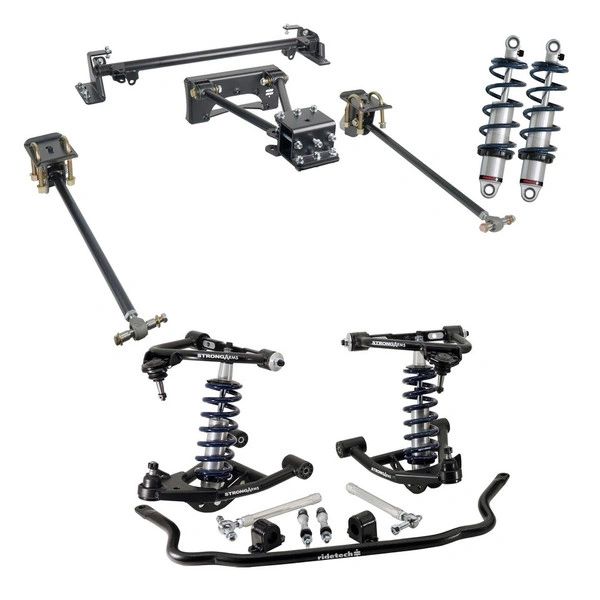 Complete Coil-Over Suspension System | 1982-2003 S10 2WD
Complete Coil-Over Suspension System | 1982-2003 S10 2WD
Fits: Chevrolet S-10 1982, 1983, 1984, 1985, 1986, 1987, 1988, 1989, 1990, 1991, 1992, 1993, 1994, 1995, 1996, 1997, 1998, 1999, 2000, 2001, 2002, 2003
Isuzu Hombre 1996, 1997, 1998, 1999, 2000
Chevrolet S-10, S-15 and GMC Sonoma pickup trucks greatly benefit from lowered ride height and improved ride quality. These trucks are plentiful, affordable and can easily be upgraded to V8 engines with great power to weight ratio. Designed to lower your vehicle and improve handling and ride quality. This complete bolt-on system eliminates your truck's factory leaf springs and replaces them with a heavy duty Wishbone link-style system that includes Ridetech's excellent R-Joints for smooth, bind-free articulation.  Up front, our TruTurn™ system includes tubular A-arms and bump steer-correcting outer tie rod ends. The complete system features a set of front and rear HQ Series monotube Coil-overs. Adjustable spring collars help you set ride height while the shock's rebound adjustment knob lets you fine tune ride quality to perfection.  A heavy duty front MuscleBar™ sway bar kit finishes off the system. Overall, you'll be thoroughly impressed with how well your truck handles, rides and looks with our Coil-over Suspension System.
Note: This system does not currently bolt on to the S10/S15 Blazer
Features:
 The Upper StrongArm tubular control arms feature tall ball joints to provide increased camber gain and the ball joint location has been moved back to allow for additional caster setting to improve high speed stability and steering feel. Offset slugs are also available for additional caster. Injection molded Delrin bushings with 13% Teflon are used to reduce deflection and stiction. 
The Lower StrongArm tubular control arms feature a double sheer lower mount for increased strength. We have also dropped the lower shock mount to increase suspension travel and moved the lower ball joint forward to increase caster settings while keeping the wheel centered in the wheel opening. Injection molded Delrin bushings with 13% Teflon are used to reduce deflection and stiction.    
This TruTurn steering linkage optimizes bump steer, under .065″ though 5″ of suspension travel. Includes outer tie rod studs, out tie rod heim joints, tie rod adjusters and inner tie rods. 
HQ Series Coil-overs utilize an impact forged aluminum body and Monotube design to deliver excellent ride quality and handling. They allow fine tuning of the ride quality and handling the rebound knob is located at the top of the shock for under hood access. They come standard with a 1,000,0001 Mile Warranty.   
This Front MuscleBar sway bar helps reduce body roll with a significant increase in rate (1.375″ O.D. x .25″ wall – 475 lb/in) and includes performance end links and Delrin liners to reduce suspension bind.  
The Rear Wishbone Suspension System greatly improves traction, handling and ride quality. Installation does not require the any modifications to the bed floor and the installation is completely Bolt-on. It is designed for use w/ the stock 7.5″ rear end (A bracket for the 8.5″ rear end is available upon request). The R-Joint rod ends combine the best qualities of low friction movement, lateral stability, full range articulation, and quiet operation into one special bearing that is as home on the street as it is on the racetrack!
Reviews