C5 Corvette 13" Disc Brake Kit GM A F X 2" drop Tall Spindles Chevelle Camaro Nova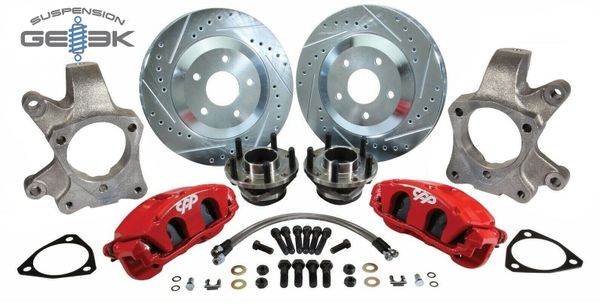 C5 Corvette 13" Disc Brake Kit GM A F X 2" drop Tall Spindles Chevelle Camaro Nova
C5 Corvette 13" Disc Brake Kit GM A F X 2" drop Tall Spindles Chevelle Camaro Nova

CPP products ship directly from the 
manufacture
 CPP in 
California
 and can be subject to warehousing delays and stock issues
Features:
2" Dropped C5 spindles
Forged steel construction
Improved camber curve (improved negative camber gain under load)
Direct bolt-on replacement for A, F, X-body GM vehicles
C5 Corvette sealed bearing hub assembly
Sealed bearing pack eliminates spindle pin flex and caliper piston push back
C4 13" cross-drilled, gas slotted, and zinc washed rotors
C5 big bore twin piston aluminum high performance calipers
Stainless steel, braided brake hoses 
Billet aluminum caliper mounting brackets 
Premium wheel bearings and seals 
Grade 8 hardware 
These brake kits features a modern C5 Corvette hub assembly and brand new CPP A/F/X spindles and accepts the components from 1997-2004 C5 Corvettes as well as the Z-05 and Z-06 Corvettes.
These spindles maintain the stock drum brake offset, meaning your track width is not affected and you wont risk the chance of moving tires into the fender and causing them to rub.


CPP's tall C5 spindles improve suspension geometry and will result in better camber change during suspension movement and the C5 bearing hub eliminates spindle pin flex and caliper piston push back, a noted problem on aftermarket multi-piston radial mount brake calipers.


This kit comes with 2 inch dropped height "TALL" spindles and hub assemblies and 
uses 13" cross-drilled, slotted, and zinc washed rotors with C5 big twin piston red aluminum high performance calipers, 
stainless braided brake hoses, billet aluminum caliper brackets, wheel bearings and seals and all grade 8 hardware.
This brake kit will fit all 1964-72 GM A-Body cars including Chevelle, GTO, 442, and GS, 1968-74 X-Body cars including Nova and Ventura, 1967-69 Camaro and Firebird, and many others. Will work with most 17" or larger custom wheels. Beware of other kits that move the wheels out causing tire to fender interference. This is the very best system for adding big brakes to your classic GM car.
Fitment:
1964-72 Chevrolet Chevelle
1964-72 Chevrolet El Camino
1967-69 Chevrolet Camaro
1968-74 Chevrolet Nova
1970-72 Chevrolet Monte Carlo
1964-67 Chevrolet Malibu
1970-72 Chevrolet Monte Carlo
1964-72 Pontiac GTO
1964-72 Pontiac LeMans
1964-70 Pontiac Tempest
1967-69 Pontiac Firebird
1971-74 Pontiac Ventura
1964-71 Oldsmobile 442
1964-72 Oldsmobile F85
1964-72 Oldsmobile Cutlass
1964-72 Oldsmobile Vista Cruiser
1973-74 Oldsmobile Omega
1964-72 Buick Skylark
1968-72 Buick GS
1964-69 Buick Special
1964-72 Buick Sportwagon
1973-74 Buick Apollo
1971-72 GMC Sprint