Viking B222 - 67-69 GM F-Body, Double Adjustable, Rear - Lowered 2-3"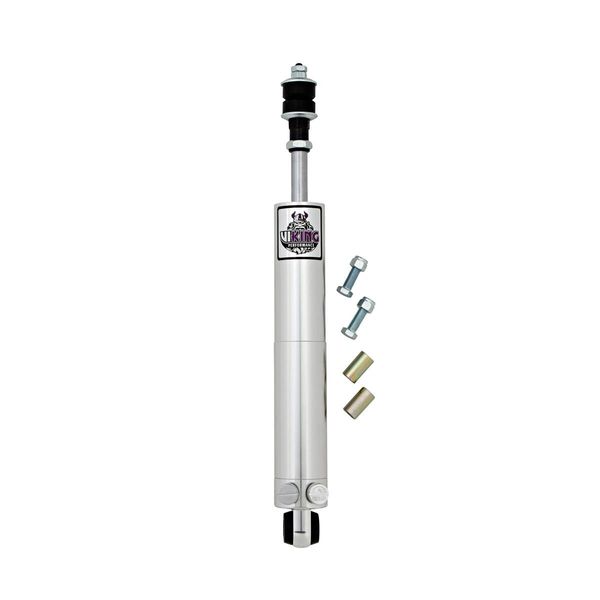 Viking B222 - 67-69 GM F-Body, Double Adjustable, Rear - Lowered 2-3"
Application:
1967-1969 Camaro/Firebird
NOTE - For vehicles lowered 2-3"
NEW!!! lower Bearing upgrade available for shock misalignment !!!
If you have ever had to wedge the the shock into place, that is a misalignment, and all that force you had to use to get it into its mounts is now placed on the bushing, shock shaft, shock piston and shock tube wall. This creates a more rapid wear and failure along with a poor ride quality
Viking's double adjustable rear shocks feature 19 independently adjustable compression and rebound settings for a total of 361 possible valving combinations. They are a direct bolt-on and can dramatically increase the performance of your car in a variety of situations. No tools required to optimize for street, strip, auto-x or road race. Sold each, one vehicle requires two.
Direct bolt on replacement for your vehicle.
19 way adjustable compression and rebound damping suits all occasions (361 possible combinations)
Every shock is built, dyno tested and serialized in Lakeville, Minnesota
Lightweight aluminum shocks with a clear anodized finish


Every shock is dyno tested and comes with its own individual serial number


5/8" centerless ground, hard chrome plated piston rods


Precision machined pistons with PTFE/bronze piston wrap


Two year material and workmanship warranty!


Shock Specifications:
Upper Mount: Stud
Lower Mount: Eye / Poly
Compressed Height (IN.): 12.32
Extended Height (IN.): 19.32
Shock Stroke (IN.): 7.00
Recommended Ride Height (IN.): 15 1/8 - 16 5/8
It takes 2-3 days to build and dyno shocks for your order
Viking Warrior™ coilovers are, set up for the typical Pro Touring car, utilizing a double digressive force curve for both compression and rebound. This means that forces increase quickly at low shaft speeds and level off at higher shaft speeds. This valving strategy provides excellent low speed control with sufficient high speed forces. Each adjustment knob (compression and rebound) provides 19 positions of adjustment for a total of 361 valving combinations.
Viking provides easy-to-read instructions with starting points depending on the application for easy set-up and tuning. The valving adjustments are evenly spaced from click to click and unlike other shocks which require several clicks to feel a change, Viking adjustments make a significant difference with each click.
The large adjustment range allows the user to adjust for comfortable cruising to high performance racing, and everything in between.
Reviews