84-87 C4 Corvette Viking Front Coilover Kit with Viking Warriors coilovers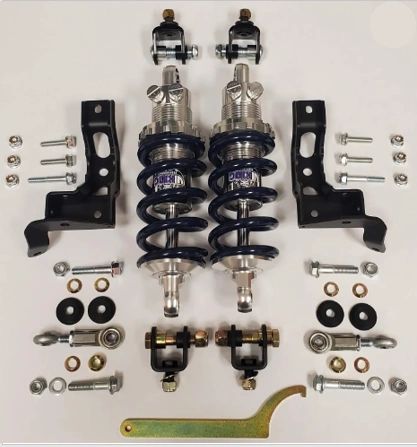 84-87 C4 Corvette Viking Front Coilover Kit with Viking Warriors coilovers
This is a complete bolt-on front coilover kit for 84-87 C4 Corvettes.  The kit features premium all-aluminum Viking double or triple-adjustable coilover shocks.  This kit also includes specific springs that are optimized for this kit and autocross/track use.  Specific spring rates can be requested at no additional charge.
The kit is optimized around a 1″ to 1-1/2″ drop from stock and exact height is easily fine-tuned with the coilover adjuster nuts.  The coilover kit makes spring changes very easy so you can tune the ride and balance of the car.  There is also a large selection of spring rates available.  The factory C4 composite leaf springs are only available in a very limited number of rates and some are difficult to find now.  The default included spring rates are based on what the After Dark Speed C4 autocross car is running.
The front coilover kit also includes the front sway bar heavy-duty, hi-performance end-link kit for all 84-87 Corvettes which uses HD chromoly aircraft-grade heim joints with teflon liners.  It works with all 84-87 C4 OEM front sway bars and e
liminates all rubber bushings by using special CNC machined inserts and adapter brackets.
84-87 C4 Front Sway Bar Relocation Kit is required for clearance and available from After Dark Speed. HD front endlink is not required since it is included with the front coilover kit.
The standard 

Warrior Double-Adjustable

 is the best all-around value shock for both street cruising and occasional performance use and features independent compression and rebound 
adjustment.
Reviews