67-69 Chevy Camaro Tubular Upper Lower Control Arms Viking 450lb Coil Over Kit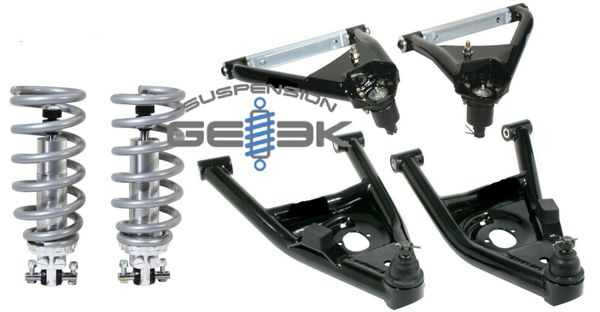 67-69 Chevy Camaro Tubular Upper Lower Control Arms Viking 450lb Coil Over Kit
LIMITED Quantity of THESE kits... American made arms, American made Viking shocks, American made Viking springs
WE use only VIKING coilover springs, some vendors use a cheaper spring to save money, and those springs sag and ride rougher because they are inaccurate on spring rates... 
1967-1969 Chevrolet Camaro / Pontiac Firebird Upper and Lower Tubular A-Arms with Viking 450lb. Double Adjustable Coil Over Kit
Features:
Tubular Control Arms:
Complete set of four fully assembled tubular A-arms
Come installed with factory style ball joints
Billet cross shaft and pivot sleeves
Interlocking shaft and sleeve design 
Made from 1-1/4" 120 Wall DOM tubing and 1-1/2" 188 Wall pivot barrels
Round cross section adds torsional rigidity
Helical stamped coil mount
Shock mount is incorporated into the stamped coil mount
Accepts OE and aftermarket swaybars
Patented self-lubricating delrin bushings that will not squeak
Black powder coat finish
Compatible with both coil springs or coilover setups
Made in the USA
Viking Coil Over Kit: 
450lbs spring rating
Viking double adjustable shocks allow user to independently adjust compression and rebound 
Huge adjustment range allows the user to adjust settings for comfortable cruising to high performance racing, and everything in between 
Evenly spaced valving adjustments from click to click 
19 positions of compression adjustment and 19 positions of rebound adjustment for a total of 361 different valving combinations 
Lightweight aluminium twin-tube design with a sleek clear anodized finish 
Labeled adjustment knobs: "C" for compression and "R" for rebound 
Ride height adjustable. Increased range of ride height adjustment over most other brands. Tight tolerances on threads provides for easier ride height adjustments. 
Left hand threads between the base and the body ensures that the shock doesn't come apart when adjusting ride height, as can occur with certain other brands 
Aluminium, precision machined piston with deflective disc technology and a PTFE / bronze piston seal 
Three-step sealing system 
5/8" hard chrome plated, centerless ground piston rod 
Each shock is dyno tested and serialized 
Viking Performance Cold wound, high tensile U.S spring steel springs
Springs are heat treated, shot-peened, and have a powder coat finish
Two year materials and workmanship warranty. Double the warranty of nearly every other manufacturer! 
Made proudly in the U.S.A. 
 These A-arms come fully assembled and ready to install and are made proudly in the USA!

 

   

The Coil-Over Conversion Kit for features Viking billet, double-adjustable coil over shocks with 450lbs springs.

 
This highly adjustable race quality shock features dual 19 click rebound and compression adjustment knobs providing a total of 361 possible dampening combinations while the threaded pre-load collar will adjust ride height as well as make the spring stiffer/softer.
The bodies are constructed of high quality billet aluminum and the surface is a very high quality, sleek, clear anodized finish. Viking light weight springs are just as high tech as their shocks. 
WE use only VIKING coilover springs, some vendors use a cheaper spring to save money
Each spring is cold wound, high tensile U.S. spring steel that has been heat treated and shot peened with both ends ground and are powder coated, Additionally, they are non-binding "high travel" springs and are 25% lighter, on average versus the competition. 
Reviews