GM Tall Ball Joint - Each (64-72 AFX)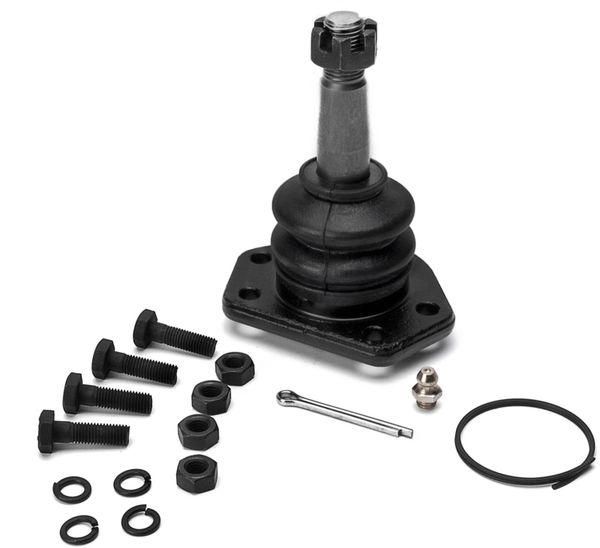 GM Tall Ball Joint - Each (64-72 AFX)
DESCRIPTION
Most OEM front suspension geometry, in addition to being designed over 50 years ago, induced "positive camber" when cornering (loaded tire leans away from the turn). This is a huge compromise in cornering performance and feel. By installing a taller set of balljoints, we reposition the control arms to correct this condition and create a much more stable and enjoyable driving and cornering experience.
Tall version for added dynamic negative camber. Ball joint is 0.50 in. taller then stock

Fitment includes: 
1964-1972 GM "A" Body (Chevelle, Cutlass, El Camino, Lemans, Skylark etc)
1967-1969 GM "F" Body (Camaro & Firebird)
1968-1974 GM "X" Body (Nova & Acadian)
Tall ball joints may be the perfect solution to ridding your ride of negative camber curve issues.
Tall ball joints are a hot trend in the aftermarket, and for very good reason.
They're designed to correct some fundamental deficiencies in the original suspension that causes poor handling.
These ball joints from Proforged are designed to increase the effective spindle height, which in turn reverses the camber curve for significant improvement in your vehicle's overall handling. Proforged tall ball joints are built to be stronger than OEM and to help keep tires flat on the pavement for better traction, handling, and cornering. So, stay in control with Proforged!
Reviews