1998-2002 GM F-Body LS1 Front End Kit, Drag- Stage 1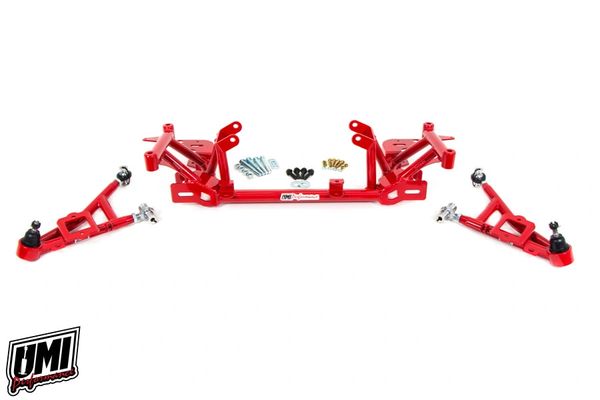 1998-2002 GM F-Body LS1 Front End Kit, Drag- Stage 1
DESCRIPTION
UMI's Stage 1 kit is the perfect starting point for removing front end weight and improving the weight transfer in your 4th Gen. Our dual tube k-member is known as the strongest in its class and can withstand wheel stand landings and street abuse while still shaving weight as well as protecting the oil pan. Rod end lower a-arms move with minimal friction and help the car respond quickly off the line while adding 8lbs of weight reduction. UMI's k-member and a-arms are built from strong USA DOM tubing, precision bent, CNC notched and welded in a jig to form a solid base. Included k-member is designed to work with factory motor mounts, polyurethane motor mounts or UMI's popular solid billet aluminum motor mounts P/N 2323. Whether you're looking to remove front end weight, gain engine clearance or just want a nice addition to your street/strip car the Stage 1 package is the perfect starting point. Save $65.00 when purchasing these items as a kit.
Features:
Heavy Duty k-member with dual tube construction.
Tubular lower a-arms with race quality rod ends.
Premium ball joints installed.
33lbs of front end weight savings.
Chromoly a-arms save an additional 1-1/2lbs.
Works with factory steering rack.
Direct bolt in replacement, no welding.
Includes new grade 10.9 a-arm mounting hardware.
Manufactured in Philipsburg, PA- USA.
UMI's Stage 1 Includes:
#2320- Tubular dual tube k-member.
#2300- Tubular lower a-arms with race quality rod ends.
#2301- Grade 10.9 hardware with Ny-lock nuts.
Reviews