1993-2002 GM F-Body Viking Front Crusader Coil Over Kit, Double Adj., Bearing Mounted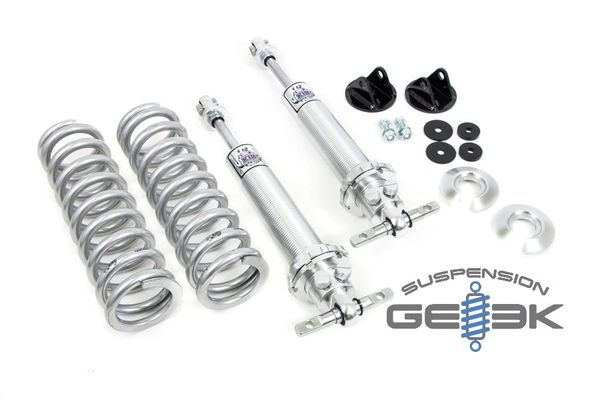 1993-2002 GM F-Body Viking Front Crusader Coil Over Kit, Double Adj., Bearing Mounted
1993-2002 GM F-Body Viking Front Coil Over Kit, Double Adj., Bearing Mounted
Crusader(race valve) part# A326AK-xxx
F-body front coilover kit permits installation of a true 2-1/2" racing coilover spring and shock into your 93-02 GM F-body. Factory style lower t-bar fits factory GM, UMI and most other brands of lower arms intended for stock t-bar.
The factory GM rubber shock mount tends to rust out and allow unwanted movement while being costly to replace. This kit replaces that unit with a bolt-in, race proven double shear upper mount which drains nicely and is powder coated for durability.
The UMI designed upper brackets capture a Viking double adjustable coilover specific shock and a 300, 350, 450 and 550 lb-in spring.
We recommend 550 for auto-x and road racing, 450 for hot street and corner carving, 350 for general use and 300 for drag specific use.
Included Viking shocks use upper and lower bearings eliminating polyurethane and rubber for crisp response and great reliability.
This kit is generally used for 1-3" lowering from factory location and does not make any permanent changes to the upper spring mount or chassis.
UMI brackets are manufactured in Philipsburg, PA and always use US materials.
Key Features:
Double bearing shock for crisp response, zero deflection and high reliability (withstands drag wheel stands and high loads from auto-x/road race sticky tires).
Fabricated upper mount saves cost by replacing rust-prone GM rubber upper shock mount.
Four standard spring rates for drag, cruise, corner carving and auto-x/road race.
Viking Warrior double adjustable shocks offer 19 compression and 19 rebound adjustments.
CNC laser cut brackets offer a precision fit and finished in black powder coat.
100% bolt in design using high grade hardware.
Designed, tested, manufactured and raced in Philipsburg, PA- USA
Spanner Wrench & Thrust Bearing Kit: Spanner wrench tool is used to adjust vehicle height while shock stays mounted. This wrench is needed to make height adjustments. The thrust bearing kit is designed to be placed between the spring and the spring seat attached to the shock. This makes for easier adjustments since the spring seat is rotating on a bearing. This kit is recommended for easier adjustments but is not needed to complete the installation. We do not recommend adjusting height on the car without a thrust bearing kit.
Reviews