1993-2002 GM F-Body Lowering Springs, Front, 1.25" Lowering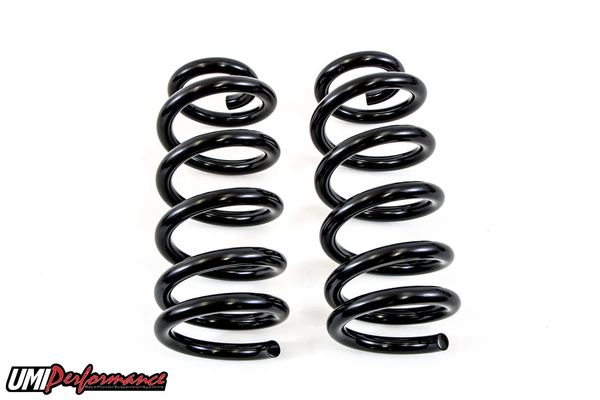 1993-2002 GM F-Body Lowering Springs, Front, 1.25" Lowering
1993-2002 GM F-Body Lowering Springs, Front, 1.25" Lowering
UMI's performance lowering springs are built to lower the 4th Gen front end approx. 1.25" and increase the spring rates for a crisp handling experience. UMI front springs are Made in USA of 5160 CrSi wire and feature 600 lb/in front rate that reduces floating and body roll while still allowing for comfortable cruising with performance handling. Think of it as permanent sport mode! These springs work with the popular Koni's and Bilstein's along with other factory style dampers. 100% designed and manufactured with pride in the USA.
As an industry leader in the muscle car suspension industry, UMI is proud to bring you the best spring in the business. Designed in conjunction with a leading spring cup engineer we are proud to offer the highest quality spring choice available.
Consistent rates and only the best materials (premium Chrome Silicon wire) ensure your cars sits properly for years to come.
Linear spring rates (600 lb/in front, 200 lb/in rear) provides a firm yet comfortable ride and incredible handling.
No more floating feeling.
Suitable for Pro-Tour, Auto-x and general cruising.
Works best with Koni, Bilstein or other equivalent standard mount damper.
Reviews