1993-2002 GM F-Body Front Upper A-Arm Mounts, Adjustable, Coil Over Only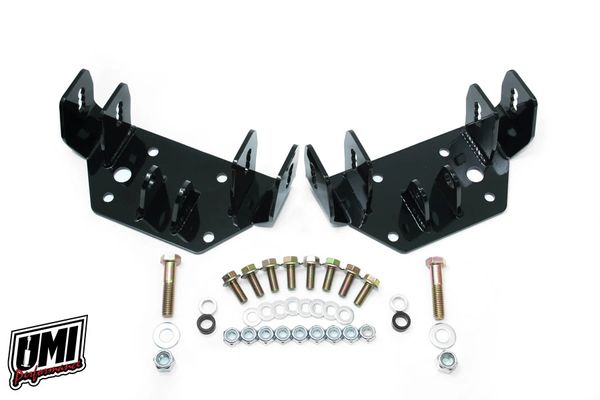 1993-2002 GM F-Body Front Upper A-Arm Mounts, Adjustable, Coil Over Only
DESCRIPTION
When looking to mount a coilover to the front of your 4th generation Camaro or Firebird, look no further than UMI's new #2335 fabricated adjustable coilover a-arm mounts. The UMI upper a-arm mount is a direct bolt in upgrade that replaces the original GM mount and helps when converting to coilovers. The two stand-off tabs are angled perfectly to attach any bearing mounted coilover. Spacers are included to install coilover shocks with 1" or 1-1/4" wide bearing. UMI's product features a unique fabricated design that allows the mounts to be strong without adding any extra weight. UMI's kit is supplied with three upper a-arm adjustment holes for fine tuning the vehicles front suspension. The original factory holes are located at the center and driver has the option to raise or lower the a-arm mounting point 3/8 of an inch. Adjustment holes feature the ability to dial in the front roll center height. Raising the roll center height increases responsiveness and improves camber gain which allows a less aggressive street alignment to perform well when cornering. For street and drag applications choosing the center hole places the a-arm in the factory location. For ultimate performance use with UMI's lower a-arms P/N 2317 or 2314 to run a true bearing to bearing mounted coilover (no more t-bar). As always, these products are extensively tested on UMI's test cars in some of the harshest highway and racing environments. This makes them an excellent upgrade for the street cruiser to the road course expert.
Features:
Direct bolt-on with no drilling or welding required.
Laser cut USA steel for clean and accurate components.
Robust 3/16" steel construction.
Same weight as factory GM mounts.
Features factory a-arm mounting holes with 3/8" adjustment up and down for roll center.
Durable black powder coat finish.
Fits shocks or coilovers with bearing mount top.
Designed and manufactured in the USA.
Fitment Notes:
Factory upper a-arms will not bolt into the upper adjustment hole
UMI upper a-arms are able to use all adjustment holes
Reviews