1989-1996 Corvette StreetGrip Suspension System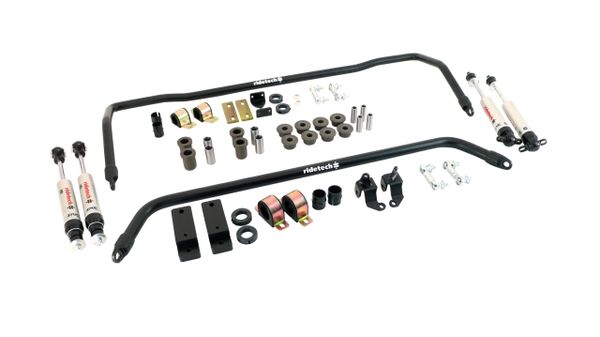 1989-1996 Corvette StreetGrip Suspension System
1989-1996 Corvette StreetGrip Suspension System 
Update your 88-96 C4 Corvette suspension with Ridetech's Streetgrip system. The 100% bolt on kit features adjustable monotube shock absorbers, heavy duty Musclebar™ sway bars and self-lubricating Delrin bushings. Ridetech's excellent HQ Series shock absorbers are custom-valved to complement your C4 Corvette's factory springs for modern handling and ride quality.  NOTE: This system does not fit 1984-1987 Corvettes.
 With impact-forged aluminum bodies and heavy duty steel shafts, HQ Series shock absorbers carry a 1,000,001-mile warranty. You can fine tune performance by way of precision rebound adjusting knobs.  
Ridetech's all-new CNC-bent Musclebar™ sway bars increase bar rate over stock. Musclebars™ feature innovative investment-cast bar ends that perfectly engage end-link bushings as your Corvette's cornering loads change. Delrin-lined sway bar mounting bushings never squeak or need lubricating.
A set of Delrin A-Arm bushings greatly reduce deflection during cornering, eliminate stiction and are maintenance free. If you love your C4 Corvette, but wish for better ride quality and handling, you will be thrilled with Ridetech's bolt-on Streetgrip suspension system. 


Reviews