1988-98 C1500 Bolt-On Wishbone Rear Suspension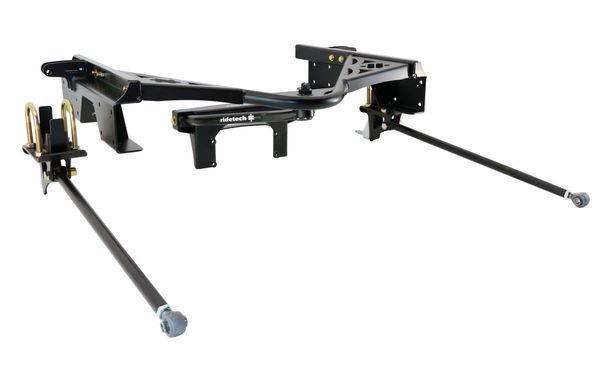 1988-98 C1500 Bolt-On Wishbone Rear Suspension
DESCRIPTION
Bolt-On wishbone rear suspension system fits 1988-1998 Chevy and GMC C1500 Trucks. Replaces leaf springs for excellent ride quality, handling, traction and load capacity.  
Greatly improves ride quality and lowers your truck.
Includes patented R-Joint rod ends to eliminate binding and noise.
Compatible with Ridetech Coilover and Shockwaves.   
Bolt-on C-Notch reinforces OEM frame rails and features integrated suspension mounts. 
Wishbone upper link replaces Panhard bar for zero lateral movement during suspension travel allowing extremely tight wheel/tire fitment. 
Optimized anti-squat, instant center and pinion angle migration for dramatic improvements in handling and traction. 
Your 1988-1998 C1500 sport truck just became much more sporty thanks to Ridetech's Wishbone Rear Suspension System. The comprehensive design features an upper cradle with heavy duty C-Notches and shock mounts. The cradle accepts a "Wishbone" upper link that eliminates the need for a Panhard bar or other lateral locating device. The Wishbone bolts directly to either 10 or 14 bolt rear end housings. Lower links feature Ridetech's patented R-Joints. The advanced rod end design offers long service life with zero binding and no noise. Compared to the platform's original leaf springs, Ridetech's Wishbone system dramatically improves ride quality and handling and accepts either coilovers or Shockwave for air suspension. Adjust ride height to suit your preferences and wheel/tire combination.
Ridetech engineered heavy-duty C-Notches to ensure that your lowered sport truck can still carry a load and tow a trailer. The notches are reinforced in multiple planes to maintain structural integrity while improving axle to frame clearance. The complete system is engineered for 100% bolt-on installation with zero welding and minimal cutting. All components are made in Indiana by enthusiasts and powder-coated for longevity.
With prices on early and Square Fender" C-10s escalating, it's time to take a good hard look at the 1988-1998 C1500 platform. Also known as GMT-400 or "OBS" (old body style), these trucks feel more sporty than other generations of GM full-size pickups. These trucks are affordable and respond well to upgrades.  With Ridetech's new wishbone rear suspension, you have another reason to get an early C1500.
Reviews