1988-1998 C1500 StreetGRIP Suspension System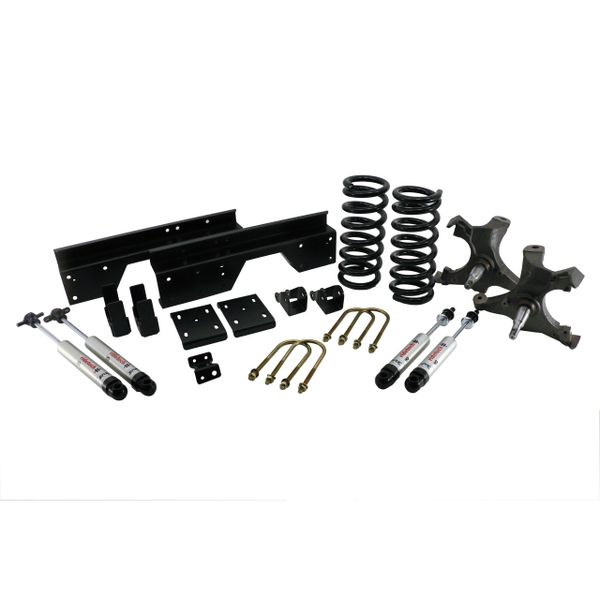 1988-1998 C1500 StreetGRIP Suspension System
DESCRIPTION
RideTech is proud to introduce an all new StreetGRIP Performance Suspension System for 1988-1998 C1500 pickups. Like all StreetGRIP systems, we focus on the areas of the OE suspension that need improvement rather than upgrading everything. In the case of 88-98 C1500's that means keeping the factory control arms and leaf springs.  Getting down to business, we start with heavy duty C-Notches that are unlike anything else on the market. The C-Nothces are significantly longer than other desing and feature reinforcements in multiple planes. They provide ample axle clearance while maintaining frame strength, both torsionally and longitudinally -- even when carrying a load.
Beyond a sturdy foundation, the next most important part of this new StreetGRIP Performance system is, by far, the custom-valved monotube shock absorbers. RideTech shocks feature superior monotube damping control inside of an impact forged housing. Monotube shocks are more responsive than twin tube shocks and provide far better body control.  Built in shock rebound adjustment lets you fine tune the valving to suit your personal preferences. RideTech includes rear shock extender brackets that maintain proper shock angle. It really is remarkable how well these trucks go down the road with the right set of shock absorbers.
To get the front of the truck down, the StreetGRIP system includes custom matched coil springs in conjunction and forged "Drop" spindles. The springs work in conjunction with the aforementioned monotube shocks to add significant ride and handling improvements. The spindles lower the vehicle while maintaining suspension geometry and alignment. Brand new grade 8 hardware and heavy duty, powder coated brackets round out the system. RideTech did not skimp or cut any corners.
Vehicle lowering measurements: (Lowering is comparable to a 4/6 drop)
Front spoiler 3.75" from bottom of spoiler to ground.
Front fender lip: 26.25" with 255/40-18 tires
Rear fender lip: 26.75" with 275/40-18 tires
Frame height behind front tire: 5" from ground.
Note: The drop spindles included with this system are designed for use with stock HD brake systems (1.25" thick rotors)
Reviews