1982-2002 GM F-Body Transmission Mounted Adjustable Torque Arm (steel)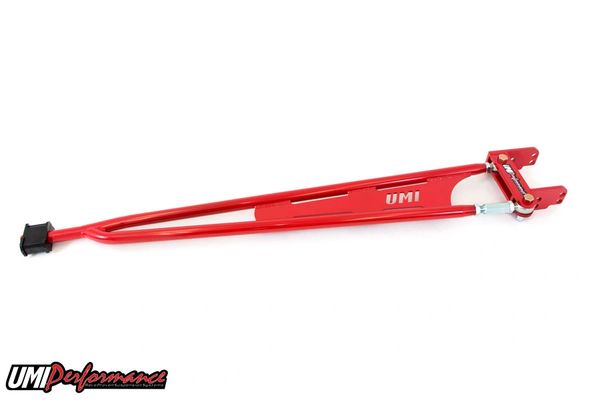 1982-2002 GM F-Body Transmission Mounted Adjustable Torque Arm (steel)
Eliminate traction problems and transfer your power to the wheels by adding a UMI Performance adjustable torque arm. This aftermarket torque arm replaces the flimsy weak stock torque arm adding strength, rigidity and eliminating flex. This tubular torque arm bolts directly in place of the factory unit using existing mounting holes and requires no drilling or welding. The torque arm is designed to eliminate wheel hop under hard acceleration and reduces 60-foot times instantly. This tubular set-up is supplied with a low deflection polyurethane front bushing designed to replace the stock rubber bushing and bolts in the existing clamshell. The rear torque arm mount is constructed entirely of 0.375″ thick CNC machined mild steel and is fully MIG welded. This set-up features on-car adjustability for easy pinion angle adjustments using a 4140 Heat treated adjuster and ¾" Rod ends, truly the ultimate arm on the market at the most affordable price! Fits GM 10-Bolt rear-ends, Moser and Strange 12-Bolts as well as most 9″ housings.
Torque Arm Benefits:
– Eliminates wheel hop and solves traction problems
– Reduces front end nose dive during braking
– Solid construction prevents breakage and reduces down time
– Allows for on-car pinion angle adjustments
– Polyurethane bushing eliminates deflection
– Bolt-on design requires no welding or drilling!
Build Features:
– Constructed of 1.250″ x 0.120″ DOM Seamless Steel Tubing
– TIG Welded 4140 Chrome Moly Tube Adaptors
– On-Car Adjuster Built using 4140 Chrome Moly Steel and Heat Treated for
Maximum Strength
– All Mounting plates are CNC Machined to insure hole to hole accuracy
– Rear Mounting Plates use 0.375″ Thick Mild Steel and are designed to fit Stock as
well as 12- Bolt and 9″ Rear-End Housings.
– Rear Mounts feature Solid ¾" Rod Eyes and are attached using Grade 8 Hardware
– Brilliant Durable Powder Coat
Note: 82-84 models require purchase on an 85 or newer clamshell mount.
Reviews