1972-1981 GM F-Body Front Bump Steer Adjuster Kit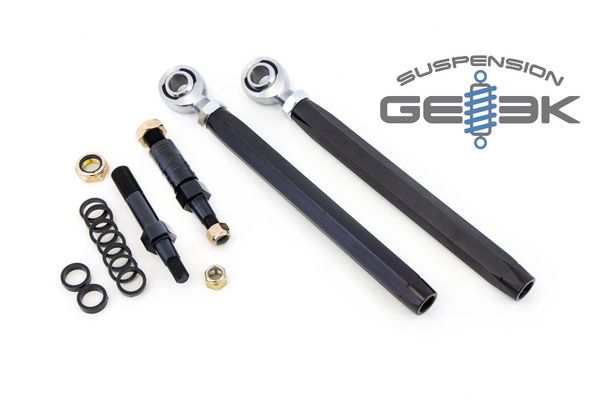 1972-1981 GM F-Body Front Bump Steer Adjuster Kit
DESCRIPTION
UMI's 2nd gen F-body bump steer kit is designed to reduce or eliminate toe change during suspension travel (also known as "bump steer"). Reduction of bump steer improves handling and straight line stability and enhances overall precision of the steering system. These direct bolt-in kits allow the builder to relocate the outer tie rod end lower than stock (or higher if necessary). The stud taper is designed for exact factory fit for each application and is constructed of 4140 CrMo for strength and durability, no spindle drilling required. The adjuster is 6061-T6 Aluminum hex for lightweight strength and features a hard anodized protective finish. Kits include shims of 0.125", 0.1875" and 0.250". These race-tested bump steer kits are 100% designed and manufactured with pride in Philipsburg, PA – USA.
IMPORTANT: IF USED ON 1970-1971 CAR, CENTER LINK AND INNER TIE RODS MUST BE USED FROM 1972-1981 MODEL. 1970-1971 SPECIFIC PRODUCT COMING SOON.
Features:
4140 CrMo stud construction.
Race quality rod end, jam nuts and locking hardware.
Laser cut spacers, of 0.125", 0.1875" and 0.250".
6061-T6 Aluminum toe adjuster, hard anodized, 5/8 RH and 11/16 LH threads, 9.125" sleeve length.
Double check 9.125″ sleeve length before ordering, as there were various steering systems throughout this platform.
Works with factory inner tie rods and factory spindle.
Simply bolt-on. No spindle drilling required.
Instructions with technical links included.
Manufactured with pride in Philipsburg, PA – USA
Battle tested by UMI.
Reviews