1970 - 1981 GM F-Body Upper A-arms, Front, Adjustable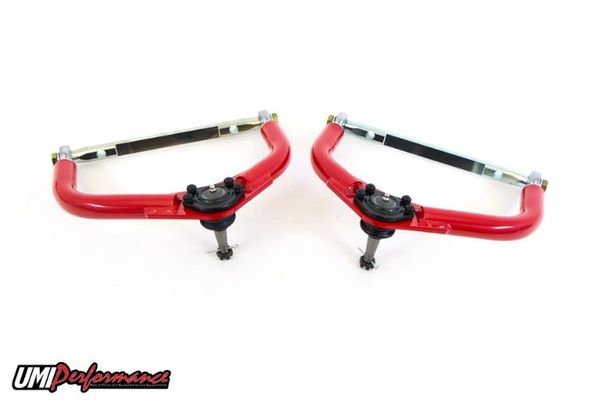 1970 - 1981 GM F-Body Upper A-arms, Front, Adjustable
Application:
1970-1981 Chevrolet Camaro 
1970-1981 Pontiac Firebird
(All models)

UMI's 2nd Gen F-body adjustable upper a-arms are race-worthy components equally at home on the street. Our P/N 2656 adjustable upper a-arms add caster to improve steering feel and reduce wandering. UMI's single adjustable rod end design allows for caster and camber adjustment with zero or minimal shimming. The strong tubular construction and 4140 CrMo cross shaft gives peace of mind when road racing, drag racing or simply corner carving in the mountains. Available in UMI red or gloss black powder coat. 100% designed, manufactured and raced with pride in the USA.
Optional hardware kit: New hardware kit includes ½" Grade 8 bolts, washers and lock nuts for mounting both upper a-arms.
Features:
Direct bolt-in for 1970-1981 GM F-body.
Adds 5 to 6 degrees of caster to improve steering feel and reduce wandering.
Combine with UMI lower a-arms to gain 8 to 10 degrees of positive caster.
Shorter than stock to reduce need for shims when using racing alignment settings. Camber range from negative 1/2 degree to negative 2-1/2 degrees.
1.250" USA Made DOM steel construction with 4140 threaded adapters.
4140 CrMo cross shaft for strength.
Thick Laser cut ball joint plate and premium ball joint installed.
Rod ends reduce stiction and allow easy movement for drag race reaction and consistent times.
Great for race use while being street worthy.
100% manufactured in Philipsburg, PA – USA.
Reviews