1970-1981 GM F-Body Lower A- Arms, Race Version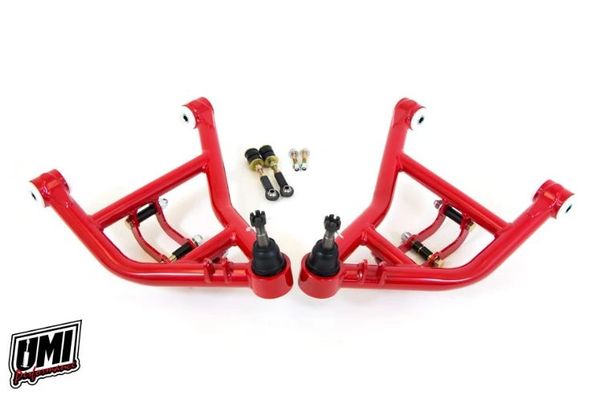 1970-1981 GM F-Body Lower A- Arms, Race Version
Application:

1970-1981 Chevrolet Camaro
1970-1981 Pontiac Firebird
(All models)

UMI's Game Changer race a-arms are designed from the ground up to be the best performing a-arm upgrade on the market. The P/N 2655 arms are strong yet lightweight and feature a removable lower mounting system to permit spring changes at the track without separating the ball joints. The ball joint cup is moved forward the proper amount to add up to 4 degrees caster potential and is loaded with high quality Howe ¾" taller ball joints. The double shear coilover mount accepts race industry standard ½" rod end shocks and comes with spacers for all popular models. Also included is a double shear sway bar mount and corresponding end link. The end link fits UMI 4035 as well as many other factory fit sway bars.
Features:
Direct bolt-in for 1970-1981 Camaro and Firebird.

Camber curve and roll center height improved to yield incredible front end grip.

Coilover-only design saves weight over spring bucket versions.

Pair with UMI P/N 2656-1 for the ultimate handling package.

Lower ball joint relocated to increase caster by up to 4 degrees.

10 degrees caster can be achieved when paired with 2656-1.

1.500" USA Made DOM steel tubing construction.

Premium Howe ¾" taller ball joints installed. Lowers front end ¾".

Includes Delrin bushings for smooth suspension travel and decreased deflection.

Swivel style sway bar mounts and hardware work with UMI P/N 4035 and most other factory eyelet style sway bars.

100% Manufactured and raced with pride out of Philipsburg, PA - USA.
Reviews