1968-1972 GM A-Body Handling Package Coilover Stage 2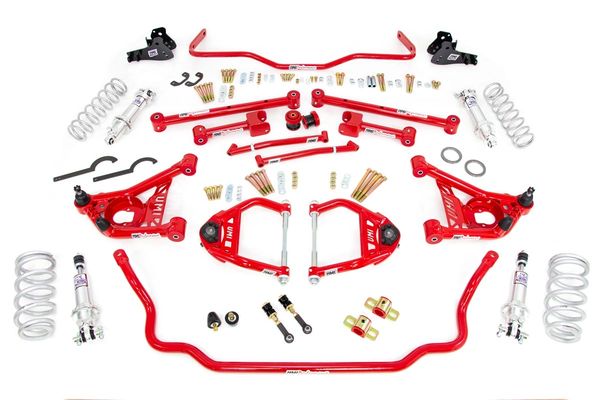 1968-1972 GM A-Body Handling Package Coilover Stage 2




DESCRIPTION
UMI Performance brings the best of both worlds together by combining our Stage 2 handling kit with four corner coilover ride height adjustability. The kit includes caster corrected upper and lower a-arms loaded with 1/2″ taller upper ball joints, heavy duty UMI sway bars with new end links and greaseable bushings, rear tubular upper and lower control arms, replacement rear end housing bushings, heavy duty tubular frame braces, plus all necessary hardware. Ride height is adjustable from 1″-3″ below stock and the Viking shocks feature 19 settings in both compression and rebound. Choose 450lb spring rate for SBC and LS cruise or 550lb spring rate for SBC/LS handling and all big blocks. 100% Made In USA.
Includes:
4031 Tubular lower front a-arms with polyurethane bushings
4033-1 Upper front a-arms with Delrin bushings, tall ball joints
4035 Heavy duty 1-1/4" front sway bar with new bushings & endlinks
4004 Front upper & lower Grade 8 hardware kit
A204-450S/550S Coilover kit
7917-101 Thrust Bearing Kit x 2
7995-102 Spanner wrench kit
4034 Solid 1" heat treated rear sway bar
4015 Tubular rear lower control arms with polyurethane bushings
4016 Tubular rear upper control arms with polyurethane bushings
4028 Tubular frame braces with hardware
3000 Replacement rear end housing bushings
4001 Rear control arm Grade 8 hardware kit
4057-125/150 Rear coilover kit
Installation Notes: Rear shocks may not clear all exhaust tail pipes. UMI is not responsible for exhaust clearance issues. Brackets are designed to fit factory GM axle housings only. The brackets are not guaranteed to fit aftermarket housings due to the variety of trailing arm mounts available.
Reviews