1968-1972 GM A-Body Handling Package, 2″ Lowering- Stage 2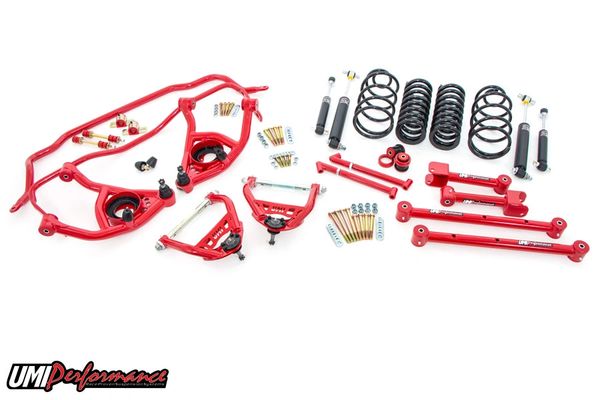 1968-1972 GM A-Body Handling Package, 2″ Lowering- Stage 2


DESCRIPTION

THIS KIT IS ELIGIBLE FOR FREE SHIPPING!
UMI Performance's newly renovated Stage 2 handling kit includes everything to upgrade and rebuild the suspension on your classic 1964-1972 GM A-Body. The Stage 2 kit includes upper and lower front A-Arms with 1/2″ added spindle height via tall ball joints, heavy duty UMI sway bars with new end links and greaseable bushings, UMI monotube gas shocks for all four corners, UMI premium lowering springs, rear tubular upper and lower control arms, replacement rear end housing bushings and heavy duty tubular frame braces. We also include all new Grade 8 hardware with locking nuts to complete the installation. This kit will make any classic cruiser feel like a modern day muscle car! UMI's Stage 2 may be our entry level complete kit but it isn't entry level performance or entry level quality. Perfect for the weekend warrior looking to go for a back road cruise, perhaps hit the drag strip or even an auto-x. As with all UMI Performance products, this kit is 100% Made In USA.
UMI's Stage 2 Handling Kit Includes:
#4031- Tubular lower front a-arms with polyurethane bushings.
#4033-1 Upper front a-arms with Delrin bushings, tall ball joints.
#4035- Heavy duty 1-1/4" front sway bar with new bushings & endlinks.
#4034- Solid 1" heat treated rear sway bar.
#4051 – 2" lowering springs, linear spring rates (530 lb/in front, 130 lb/in rear).
#4015 – Tubular rear lower control arms with polyurethane bushings.
#4016 – Tubular rear upper control arms with polyurethane bushings.
#4028 – Tubular frame braces with hardware.
#3000 – Replacement rear end housing bushings.
#4004 – Front upper & lower Grade 8 hardware kit.
#4001 – Rear control arm Grade 8 hardware kit.
#S41030- UMI monotube shocks, designed & tuned for optimum ride quality combined and performance.
Small Block and LS: Small block motors, Pontiac 400 or Big Block with aluminum heads and intake tend to sit level with this kit. Lightweight LS may require spring trimming.
Big Block Engines: An additional 1/4″ front end drop may occur on vehicles with full weight big block engines.
Color Selection: All UMI fabricated products are available with the customer's choice of high quality durable red or black powder coat finish. Please note that regardless of color chosen the UMI springs and shocks will always be supplied black.

Reviews