1967-1972 GM A-Body Factory Height Spring Set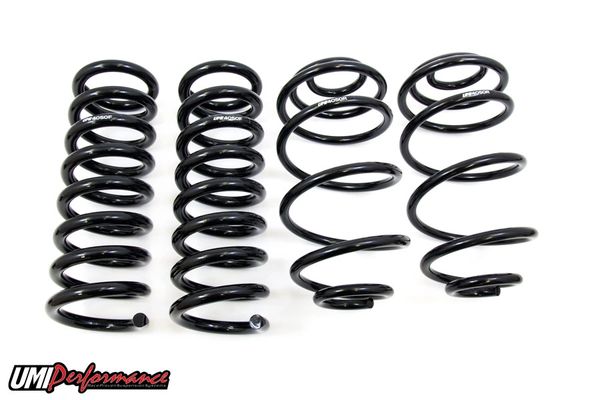 1967-1972 GM A-Body Factory Height Spring Set
DESCRIPTION
A spring is a spring right? Wrong! When UMI chose to manufacture our own line of springs we went all out. Designed in conjunction with a leading Sprint Cup chassis engineer, these springs are the best in the business. UMI's springs are designed to add modern handling and a crisp ride while maintaining the factory muscle car appearance. Our front springs are wound from 5160 CrSi premium wire and feature a linear 530 lb/in rate. The rear springs are wound from 9254 CrSi premium wire and feature a linear 130 lb/in rate. The linear rate provides consistent handling characteristics which are important for Auto-x and Pro-Tour applications while the increase in stiffness reduces body roll and prevents the "floating" feeling so common with the A-body. These springs are suitable for Auto-x and Pro-Tour applications as well as corner carving and general cruising. The ride height is engineered to be level with standard SBC, Pontiac 400 and aluminum head/intake Big Block Chevy as well as LS power (lightened cars may require spring trimming). The front springs are also suitable for full weight Big Block applications when ¼" nose down rake is desired. They have a tough, black powder coat finish and UMI proudly manufactures these premium quality springs in the USA.
Designed to maintain the factory muscle car appearance with today's modern feel.
Consistent rates and only the best materials (premium Chrome Silicon wire) ensure your cars sits properly for years to come.
Linear spring rates (530 lb/in front, 130 lb/in rear) provides a firm yet comfortable ride and incredible handling.
No more floating feeling.
Suitable for Pro-Tour, Auto-x and general cruising.
Manufactured in the USA.
Reviews