Viking Crusader 67-69 GM F Body Front Coil-Over/Rear Smooth Body Shocks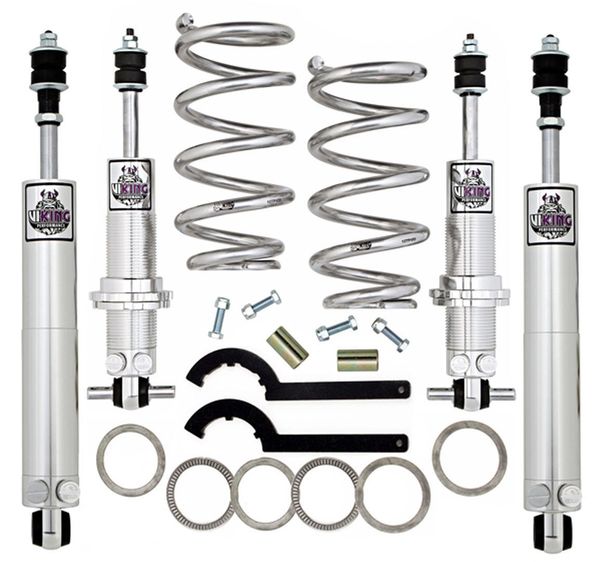 Viking Crusader 67-69 GM F Body Front Coil-Over/Rear Smooth Body Shocks
Application:
1967-69 Chevrolet Camaro
1967-69 Pontiac Firebird
Take your muscle car's suspension to the next level. Have you been wanting to convert over to coil over suspension? Geek now offers a complete front coil over system with rear smooth body shocks that is bolt-in and will work with most aftermarket tubular arms. Gain performance, handling and comfort in one conversion.
These shock absorbers and struts have the same digressive compression valving, and various options, as the Warrior™ line. As such, there are 19 positions of evenly spaced compression adjustments - the zero position and 18 distinctive clicks. The rebound valving, however, is a progressive valve that is strictly determined via orifice control. A progressive valve will have a softer low speed force that ramps up very quickly as shaft speed increases. These shocks and struts can generate huge forces at low speeds, depending on the needle and seat combination selected. In fact, this line of shock absorbers and struts produces forces far greater than nearly all others on the market. The rebound side has 22 available positions of adjustment - the zero position and 21 distinctive clicks. As a result, the Crusader™ line provides for 418 different valving combinations. Depending on the needle and seat combination selected, the adjustment range can cover a very large range or a more narrow range with very small defined increments.
Kit Includes:
2 "A" series coil-over double adjustable front shocks
2 application specific high travel coil-over springs
2 "B" series smooth body double adjustable rear shocks
All mounting hardware
Shocks & Springs:
22 positions of adjustment for a total of 418 different valving combinations that includes a bearing type mount 
Lightweight aluminum construction with a clear anodized finish
Ride height adjustable. Increased range of height adjustment over most other brands
Springs are from lightweight high tensile spring steel with a sleek silver powder coat finish
Made in the U.S.A.
Notes:
(2) Front springs with choice of 250, 350, 450, 550 or 650 spring rate
Sold as a 4 pack
The valving on these shocks are geared for comfort. Pro-touring (track)
Reviews