Ridetech C5/C6 Corvette Track Package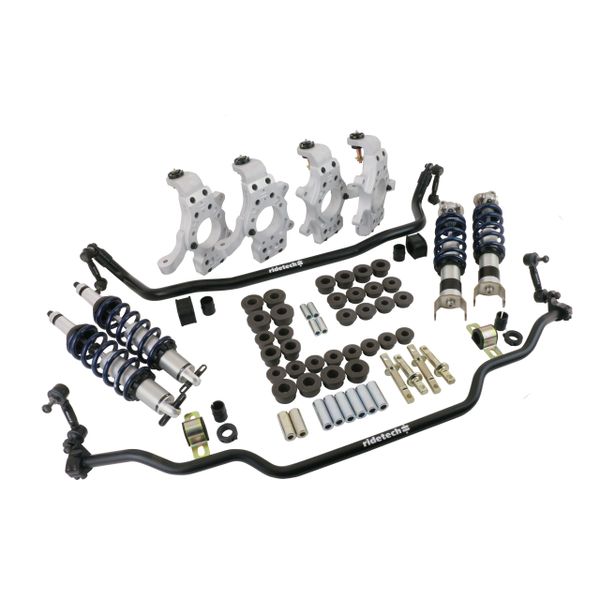 Ridetech C5/C6 Corvette Track Package
DESCRIPTION
The Corvette Track Package is designed for track day use as well as and street driving. RideTech's adjustable monotube HQ Series Coilovers work in conjunction with modular spindles to lower ride height without compromising proper track suspension geometry or limiting shock travel. Hardcore racers can upgrade to the TQ Triple Adjustable Coilovers for ultimate tuning capability.
- Includes: 
Front and Rear Track 1 Billet Spindles, machined from 7075 T6 billet aluminum and offer a 1" lowered stance while maintaining proper supenesion travel and geometry.

HQ Series CoilOvers utilize an impact forged aluminum body and Monotube design to deliver excellent ride quality and handling. They allow fine tuning of the rebound dampening to tune the ride quality and handling. They come standard with a 1,000,0001 Mile Warranty.  For extreme performance upgrade to the TQ Series CoilOvers to gain remote reservoirs with high and low speed compression adjustments.  

Delrin Control Arm Bushings for all 8 control arms to eliminate bushing deflection and suspension bind.  

Front and Rear MuscleBar sway bars greatly reduce body roll and feature Delrin lined mounts to reduce suspension bind.   Front bar is 1.375" O.D. x .25" wall (655 lb./in.), the rear bar is  1" O.D. x .156" wall (500-775 lb.in. adjustable rate).






Reviews