Ridetech 1964-1966 Mustang w/ OEM Power Steering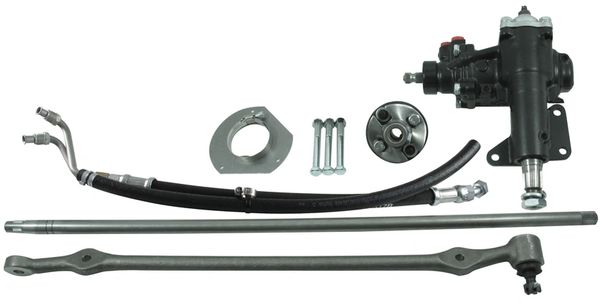 Ridetech 1964-1966 Mustang w/ OEM Power Steering
1965-70 Mustang power steering conversion.
Borgeson offers a modern integral power steering conversion for your 1965-70 classic Mustang. The conversion box is a remanufactured GM Delphi 600 Integral power steering gearbox. The Delphi 600 represents the latest generation of integral power steering gearbox technology with true modern power steering feel, feedback and a sporty 16:1 ratio. Borgeson has remanufactured this box to bolt directly to the factory mounting location and to fit the stock pitman arm. The factory column will need to be collapsed or shortened approximately 2.5" for clearance of conversion box.
Steering column modifications
1965-67– You will need to trim the outer column tube for clearance of the rag joints and use replacement inner column shaft; Conversion box will then connect to stock column with rag joint.
1968-1970- factory collapsible steering column, gently tap on the spline column shaft with a rubber mallet to collapse the shaft in on itself for the needed clearance. Conversion box will then connect to column with half rag joint.
Power Steering Kit for 64-66 Mustang w/ OEM power steering Includes box, rag joint, center link, steering shaft and hoses.
Factory Z-bar clutch linkage will not fit
Reviews