No Limit Sniper IFS 67-69 Camaro/Firebird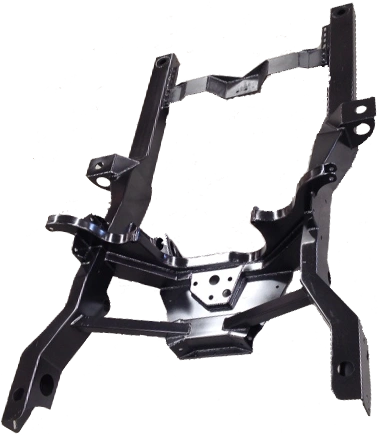 No Limit Sniper IFS 67-69 Camaro/Firebird
** IMPORTANT NOTICE - THIS ITEM MUST SHIP VIA FREIGHT. YOU WILL BE CONTACTED AFTER PURCHASE FOR SHIPPING COST. Truck freight is often 300-400 dollars
The Sniper IFS is a complete system designed, engineered and tested to deliver the very best in ride quality and handling performance. The sub-frame is a direct bolt-in replacement of the OE sub-frame, and can be mounted with urethane or solid bushings. The Sniper IFS is the only suspension system available that will fit a 315-30-18 tire under the stock fenders, and offers a full 32 degree steering angle. Only the highest quality components were chosen to complete the package, including the following:
No Limit fabricated lower control arms

SPC – No Limit spec fully adjustable upper control arms

Coleman – No Limit "Short Snout" spindle assembly

No Limit Billit hub and rotor adapter

Coleman – Sweet servo drive power rack and pinion

Speedway Engineering splined sway bar
The Sniper sub-frame assembly comes complete with engine mounts (LSX, SBC, BBC) Transmission crossmember, Upper and Lower control arms, Spindles and Hubs with all of the bearings, seals, and hardware, Rotor adapters, Power rack and pinion, tie rod ends, sway bar and links. All Sniper sub-frames include stainless thru-frame fittings and the front sub brake lines pre-plumbed. Also included is the lower steering U-joint, the lower shaft, support bearing, and center U-joint. Rack fittings, converted to #6 AN are also included to make the installation easy.
Sniper IFS sub-frame. The sub-frame is built at No Limit Engineering. CNC laser cut and formed parts fit into our fixture and are then welded and finished. There are over seventy cut, former and milled components in the sub-frame. The Motor mounts are included. SBC, BBC, and LSX (adapter plates are needed). The transmission mount is also included and is adjustable to run anything from a Powerglide to a T-56.
Control Arms. The Lower Control Arms are built at No Limit, and feature large urethane bushings with grease zerks. The outer ball joint is a large screw in #727. There are two positions for the lower shock mount to tune the motion ratio. The Upper Control Arm is built to our specifications by Specialty Products Company (SPC Performance). The arms are adjustable for Caster and Camber. They have steel shafts and Delron bushings, also with grease fittings. The upper ball joints are also screw in style #772. The adjuster sleeves are machined from hex stock for easy adjustment.
Spindles. The Sniper IFS spindle is like no other. We went to Coleman Racing for their expertise in fabricating spindles. These are a three piece modular design with 7 Degrees of SIA. The steering arms are adjustable from 4 ½" to 5 ½" for track and street tuning. The spindle snout is a huge 2" diameter and is hollow, making the strongest and lightest spindle available.
Hubs. The hubs are custom from 6061 billit aluminum to fit the Coleman spindles and the Sniper geometry. The short snout spindle requires a different style hub with the bearings set inside the hub face. At only 5.3 lbs (including bearing races) they are light and incredibly strong. The combination of spindle and hub are so rigid that any type of pad knock back in the brakes is not a factor. We even thought about the grease seal, which is held in place with a snap ring to make bearing removal and track prep easy and clean. On the back side of the hub we have a separate machined pattern to hold a reluctor wheel, should you ever want to add ABS or Traction control. The wheel pattern is 5 x 4 ¾" with ½" studs.
Brake adapters. The rotor adapters and the caliper mounts are custom machined to fit each brake combination. These are included in the spindle package.
Steering. The rack and pinion system is a joint effort with Coleman Racing, Sweet Manufacturing and No Limit. We are using a Coleman Racing "Square Shaft" rack with a Sweet dual port servo drive and slave. The incredible tuning available in this package allows us to pick the steering ratio, total throw, rate of 'turn-in' input, and total assist input. This tuning allows for the perfect combination of road/track feel, easy turn in, great street manners, and is still easy to park with a 315 front tire. We include the lower steering U-Joint, the lower shaft, the idler bearing and the middle U-Joint. You will need the upper U-Joint to fit the steering column. – We have these available depending on the column you are using. These racks work on standard pump pressures, so no special pumps are needed.
Sway – Bars. The Sniper IFS is designed towards the "High Travel – Low Roll" end of suspension design thought. We use a splined style sway-bar to allow tuning. The Sniper IFS will include a 1 ¼" x .250" wall bar and steel forged arms. This is a great size for a track worthy car on 200 TW tires. True track animals will want a solid bar to swap to when you put slicks on. Other bar sizes are available.
-You will need to choose Shocks, Springs, and Brakes.
Wheel Specs.
18" x 11"
use 8 ¼" back space. This will need modified inner fenders.
18" x 10 ½" use 7 ¾" or 8" backspace. This will need modified inner fenders.
18" x 10" use 7 ¼" to 7 ½" backspace. This may need modified inner fenders.
18" x 9"

- step up your game.

For 17" or 19" wheels, refer to wheel width
Reviews