HALIBRAND SPRINT WHEEL SET - 19"/20" WHEELS - MAG7 SEMI GLOSS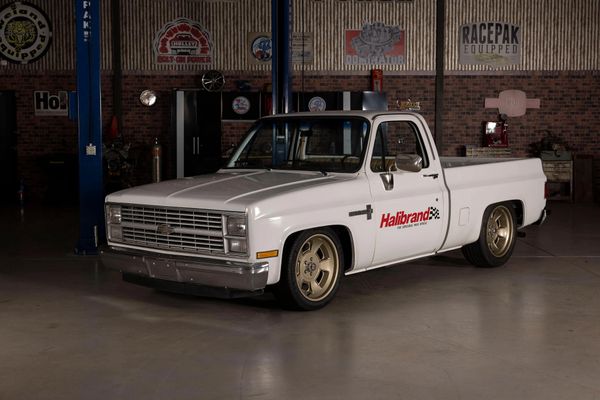 HALIBRAND SPRINT WHEEL SET - 19"/20" WHEELS - MAG7 SEMI GLOSS
HALIBRAND SPRINT WHEEL SET - 19"/20" WHEELS - MAG7 SEMI GLOSS
Fits 1973-1987 Chevrolet/GMC C10 - with Narrow Front Spindles and Factory Length Rear Axle
Halibrand Sprint Wheels for the Square-Body C10 are a nostalgic styled wheels based on the original classic "Sprint" wheels, but updated to fit modern tire sizes and modern tapered seat lug nuts. They were engineered specifically for the C10 Square-Body fleet side trucks with proven fitment, tire clearance, and backspacing optimized to fill up the wheel openings. These wheels eliminate the fitment guesswork and tire rubbing that can be common with generic-sized after-market wheels. The Flow-Formed wheel manufacturing process applies pressure and heat to the wheel casting while it is spinning to stretch and compress the aluminum. The finished wheel is lighter, stronger, and features a higher shock resistance and load capacity compared to a standard cast aluminum wheel. Wheel Set with Staggered Diameter and Width: • 19x8.5 (4.75" backspacing) Front Wheels with 20x10 (5.5" backspacing) Rear Wheels • Fitment Optimized on the Square-Body Fleet Side C10 Trucks - Lowered Vehicles with Narrowed Front Spindles and Factory Width Rear Axle • Recommended Tires for a "Meaty" Fitment: 255/45R19 and 275/50R20 Michelin Pilot S • Finish: MAG7 Semi-Gloss Clear Coat Virtual Kits are Configurable, and you can make changes in the shopping cart (remove and/or replace part numbers). • If you have the factory track-width front spindles - part number HB001-003 should be used instead HB001-002 • If you have a 3.0" Narrowed rear axle - part number HB001-009 should be used instead of HB001-008
Features:
Classic Halibrand Nostalgic Styled Sprint Wheels
Engineered Specifically for the C10 Fleet Side Square-Body Trucks with Proven Fitment, Tire Clearance, and Backspacing Optimized to Fill Up the Wheel Openings – Eliminates Fitment Guesswork that is Common with Most Aftermarket Generic Sized Wheels
A356-T6 Aluminum Construction with Flow-Formed Wheel Manufacturing Process – Produces Wheels that are Lighter, Stronger, and Have a Higher Shock Resistance (than Standard Cast Aluminum Wheels)
Hub Centric Mounting, Helps Ensure the Wheel is Optimally Centered on the C10 Hub – Instead of Relying only on the Wheel Studs and Lug Nuts
Includes Four Wheels, with Style Center Caps, Lug Nuts, and Valve Stems
Deep-Dish Styled Wheels with Curved Spokes – for Improved Appearance and Classic Style
Bolt Pattern: 5x5 (5x127mm) – Fits 1973-1987 C10 2WD Fleet Side Chevrolet/GMC Trucks, 1973-1982 2WD Chevrolet/GMC Blazer/Jimmy, and 1973-1987 2WD Chevrolet C10 Suburban
3-Step Paint Finish Process – Powder Primer, Paint, and Clear-Coat for Durability and Easy Cleaning
The MAG7 Finish Has a Similar Appearance to the Classic Gold Chemical Treatment Used on Magnesium Halibrand Wheels in the 1960s & 1970s
About Halibrand
An early pioneer in the racing and performance wheel industry, Halibrand has cultivated a storied presence in lightweight and competition wheels for all forms of motorsports dating back to the 1940s. Through countless successes in Indy car championships, land-speed records, drag racing wins, and more, the Halibrand name continues to be synonymous with victory and a powerful aesthetic to match. Now part of Holley, Halibrand offers a comprehensive selection of modern, high-performance wheels, that continue its tradition of style and speed.
Reviews