Baer 14" Front Extreme+ Brake System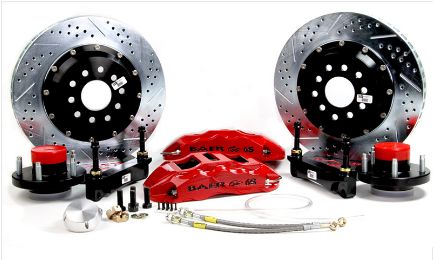 Baer 14" Front Extreme+ Brake System
14" Front Extreme+ Brake System
This system comes standard with the monoblock 6-piston, 6S caliper mounted to a 14", 2 piece slot, drill, zinc plated rotor and can be upgraded to either the XTR caliper and/or a 15" 2-piece rotor. Both the 6S and XTR calipers have dust and weather seals and uses the popular D1247 pad type. Rotors are pre-assembled with NAS high grade stainless hardware. Billet aluminum hubs come assembled with premium bearings packed with Redline synthetic grease and billet dust caps. All mounting brackets, stainless braided hoses and hardware are also included. The 14" Extreme+ fits most 18" or larger wheels and the 15" fits most 19" or larger wheels.
14" x 1.25",
 2-piece Standard
15" x 1.25",
 2-piece Optional
|

 Replacement Rotor Rings:
|

 Caliper/Piston Count/Mount Type:
18"

 (Use template to verify fitment, link below)
Calipers, Brake pads, Rotor & Hat assemblies, Billet aluminum hubs w/premium bearings, Billet dust caps, Brackets, 
Stainless braided brake hoses 
& mounting hardware
- No Track width change compared to stock disc brakes
- Widens track .200" a side on stock front drum brake cars
- 
Designed to be used with OE GM disc or drum spindles
- 1964-72 GM A-Body cars w/OE spindles
- 1967-69 GM F-Body cars w/OE spindles
- 1964-74 GM X-Body cars w/OE spindles
- DSE AFX-body 2" drop spindles
- Heidts 2" drop spindles
- Fatman 2" drop spindles
- Ridetech 2" drop spindles
The Baer Remaster master cylinder is offered in three sizes to fit most applications. Use chart below as a guideline to help you determine the proper size for you. Please contact us with any questions regarding the best size for you.
| Bore Size | Manual Brake | Power Brake | Hydroboost |
| --- | --- | --- | --- |
| 15/16" | √ |   |   |
| 1" |   | √ |   |
| 1 1/8" |   |   | √ |
15/16" can be used Power or Manual. Customers that prefer softer pedal feel with less pedal effort use 15/16" for Power Brakes

1" with Power is based on good engine vacuum numbers, and that the booster is working correctly

Hydroboost or Drag race applications with dual rear calipers should use a 1 1/8" Bore Remaster
Reviews