ACES Fuel Injection Jackpot ECU Stand Alone Systems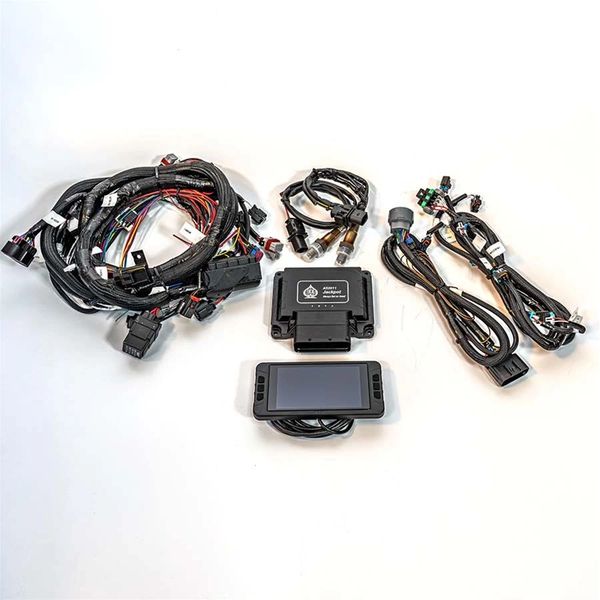 ACES Fuel Injection Jackpot ECU Stand Alone Systems
Aces EFI Jackpot Stand-Alone System
Aces Fuel Injection's Jackpot™ stand-alone system is the latest and most advanced self-learning system for GM LS-based engines. ACES designed this engine control technology to be affordable with enough features for both professional racers and hobbyists alike. The Jackpot ECU is built using Aces' 32-bit Power Architecture®. This technology manages input/output signals and voltage, and RPM faster and more consistently than the competition. The Jackpot™ ECU features dual WBO2 sensors, closed-loop fuel control, self-learning fuel and ignition control, 8 coil outputs and 8 injector drivers, dual fan control, boost control, nitrous control, GM electronic transmission control, drive-by-wire throttle body control, and much more.
We also offer a drive-by-cable version that has all of the above features minus the trans control and drive-by-wire functionality.
The Jackpot comes fully loaded with base maps for common LS engine combinations to get you out of the garage and on the road/ track fast. Jackpot kits include a USB/CAN tuning cable and a 5" Handheld LCD for initial setup but also for monitoring your engine and making adjustments while on the road. Whether you are building a budget LS swap or a boosted race car, the Jackpot EFI kit has the advanced features and technology you want.
Whether you are building a budget beater or a boosted racing car, ACES EFI's Jackpot™ EFI kit has the technology and advanced features to meet your needs, in an easy-to-install, easy-to-tune package so you can take your ride to the next level!
Aces EFI Jackpot Stand-Alone Features
32-Bit Power Architecture®. This Technology Manages Input/Output Signals, Voltage, and RPM Faster and more consistently than the competition
Self-Learning—Adaptive Idle and Fuel Control, Adaptive Ignition Control
Works with 58x and 24x Reluctor Wheel Crankshafts
Sequential Fuel and Spark Control with Individual Cylinder Trim
Dual Wideband O2 Sensors, Closed Loop Control, and Dual Internal Lambda Controllers (Bosch LSU 4.9 Wideband Sensors)
Includes CAN/USB Tuning Cable Allowing You to Configure Your ECU and Tune Your Engine in Real Time
Drive-By-Wire Throttle Body Control
Transmission Control for GM 4L60, 4L65, 4L80 Or 4L85 Transmissions
Nitrous Timing Control
Boost Timing Control
Dual Knock Sensor Control
Reviews