ACES Fuel Injection EFI Royal Flush Throttle Bodies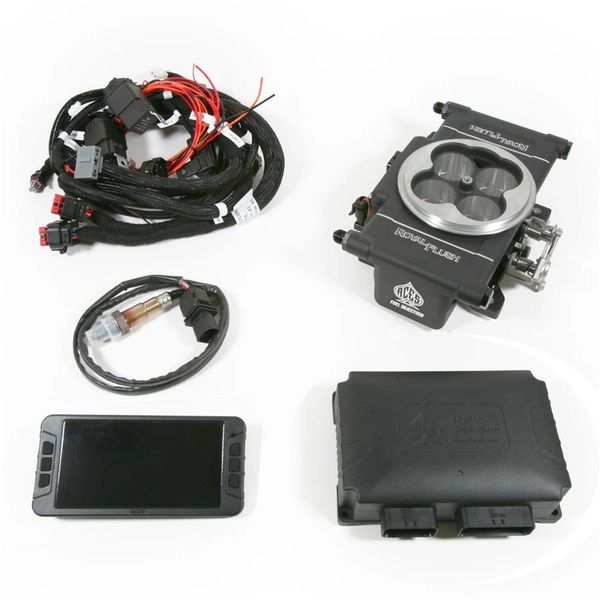 ACES Fuel Injection EFI Royal Flush Throttle Bodies
ACES EFI Royal Flush™ TBI
ACES EFI Royal Flush™ Self-Tuning EFI system is the most advanced throttle body injection (TBI) system on the market. The Royal Flush™ utilizes four 100 lb./hr. fuel injectors, giving the system the capability of supporting up to 650 horsepower. The Royal Flush also has an integrated CDI ignition box (distributor and ignition coil sold separately), allowing you to control fuel and ignition from the same handheld controller. The system includes the throttle body (with integrated fuel injectors, TPS sensor, MAP sensor, IAT sensor, and stepper motors), wiring harness, Bosch O2 sensor, ECU, handheld programmer for easy tuning and monitoring of engine data.
ACES' Royal Flush™ TBI system fits any 4150-flange 4-barrel intake manifold and is designed for easy installation and tuning. Installation is straightforward and easy, and the system includes everything you need to get on the road or track quickly. The calibration wizard and self-tuning features mean advanced tuning knowledge or experience is not required.
Aces EFI designed its throttle body systems with the ECU separate from the throttle body. This alleviates any issues with the damage to the ECU from unwanted engine heat or vibration. This is a common problem with other companies' all-in-one systems.
Whether you are building a budget beater or a boosted racing car, ACES EFI's Royal Flush™ EFI kit has the technology and advanced features to meet your needs, in an easy-to-install, easy-to-tune package so you can take your ride to the next level!
The ACES EFI Royal Flush™ TBI System Features
4150 flange throttle body for easy carburetor replacement
Four integrated 100 lb./hr. fuel injectors
Integrated TPS, MAP, and IAT sensors
System supports up to 650 horsepower
32-bit architecture. This technology manages input/output signals, voltage, and RPM faster and more consistently than the competition.
Integrated CDI ignition box (ignition coil and distributor sold separately)
Integrated ignition timing control and coil driver
Advanced innovations make this system the most advanced TBI system
Easy-to-install design, can easily be done by the average enthusiast
Easy-to-use calibration wizard makes initial start-up simple and easy without the need for custom tuning
Adaptive self-tuning strategy for idle control and fuel control
High-quality Bosch 4.9 wideband sensor
Dual electric fan control
High-resolution 5-inch full color touchscreen handheld controller for initial setup, tuning, and gauge displays
CAN communication for Handheld Controller-based calibration and display
Available finishes: Black Ceramic and Polished Finish
Reviews